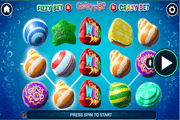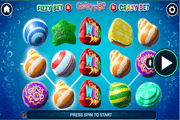 Crazy Pop Online Slot: Features Wilds that Pay 3x and Substitute for Scatter Symbol!
Crazy Pop is a 5-reel, 50-payline online slot by Games Lab deployed via the NYX/NextGen Gaming platform. The rewards awarded by an assortment of Candy icons get even sweeter if played with a 6th Reel Multiplier. The Multiplier Reel though comes at an additional cost, either at twice or thrice the value of a regular bet.
Still, even if spins are launched by placing normal bets, Reel 3 may produce a Wild with a built-in 3x Multiplier. At the same time, the Wild w/ Multiplier can also substitute for the Bonus Game Scatter Symbol. Moreover normal bets can also activate any one of 3 Bonus Games that may be played on reels enhanced with Locked Wild Reel/s, Spreading Wilds or Extra Wilds.


Crazy Pop Online Slot: Wild Symbol
A colorful Wild emblem set against a Red background represents the substitute symbol that triples (x3) rewards. This Red Wild though emerges only in Reel 3. Yet when it does, and after wins have been evaluated and paid, the Red Wild expands to cover the entire reel. The post-win expansion therefore gives players another chance of striking additional triple-paying, Wild-completed winning combinations via a single spin.
Another feature that makes every Red Wild appearance even more exciting is that it can substitute for the Crazy Pop Scatter Symbol. Scatter substitutions will prove to be significant because a winning Scatter-combo triggers the launch of the Free-Spins Bonus Game.
Crazy Pop Bonus Game Scatter Symbol
The Crazy Pop Game Logo represents the Scatter image that could trigger the free games. Whenever two, three, four, or five Logo Scatters take position across the board as winning combinations, the occurrence initiates the launch of the free games.
Logo Scatter groupings also award Scatter Pays of 2, 3, 6, or 30 credits multiplied by the current Bet; but only on the longest Scatter-Win combination. Now if a Scatter Win was achieved with the help of a Wild Symbol, the combo must constitute 3, 4, or 5 Scatter + Red Wild icons. Since the Red Wild is naturally endowed with a 3x multiplier, Scatter Rewards therefore range from 9x, 18x, to 90x the current Bet.
Crazy Pop Online Slot: Free Games
Three types of Crazy Pop free games are available as bonus game options. Players select one of Crazy Pop icons that triggered the feature to reveal the type of game that will be loaded. Each Bonus Game type awards a specific number of bet-free spins and different type of Wild-enhancement feature.
The Super Sweet Bonus Round awards 20 free-spins. This type of bonus round features an Extra Wild distinguished by its Yellow background. Up to 9 Yellow Wilds may drop arbitrarily on any reel during an ongoing Super Sweet Game, posing as additional substitute icons to the Reel 3 Red Wild. However, Yellow Extra Wilds cannot triple a Wild-completed win on their own, nor stand-in as eligible substitutes for a Bonus Game Scatter icon.
The Wild Slide Bonus Game awards 9 bonus spins. Here, the Red Wild is the only substitute icon available but still capable of increasing Wild-completed wins by 3x and representing Scatter icons as well. The feature that makes this type of bonus round extra-special is that a Red Wild Reel may replicate, or spread to 1 or 2 more reels. The replication occurs after the original spin-outcome has been evaluated and paid. Any resulting wins after the Red Wild replication will pose as Extra Wins for the spin that triggered the feature.
Its Wild Bonus Round awards 7 free games; played on Reels in which the Red Wild Reel is a fixture in the center column throughout the round.
Crazy Pop Online Slot: Multiplier Reel
Players hankering for greater wins may activate the 6th-Reel Multiplier Value by choosing one of two betting options, namely the Fizzy Bet and the Crazy Bet. When playing under any of this two betting modes, all wins coinciding with the Multiplier Value displayed by the 6th reel will increase accordingly.
The Fizzy Bet is equivalent to 2x the value of any regular bet. In return, Reel 6 will be activated to reveal a win-multiplier anywhere between 1x and 20x.
The Crazy Bet is equivalent to 3x the value of any regular bet. The multipliers revealed by Reel 6 range from x2 to x100.
The 6th Multiplier though does not apply to Scatter Wins.