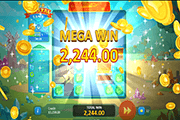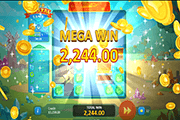 Crystal Land Slot: Unblock All Symbols to Activate Bonus Round with Increasing Win-Multiplier
Crystal Land online slot by Playson awards pays on 5 or more symbols clustered together in adjacent positions; vertically, horizontally or both ways. However, some of the symbols held by the 7 x 7 grid are initially shrouded and therefore hidden from view. A Crystal Land player's goal is to reveal all images, as doing so activates the Bonus Round. The latter awards free play with a Win-Multiplier that has potential to increase by way of the Treasure Chest feature.
Reels roll rather than spin, and in the process remove any winning symbols from the grid. That way, symbols from above will roll down and drop into gaps, to possibly create new Cluster Wins. Now every win will unblock shrouded images one row at a time, starting from the bottom. Striking Cluster Wins in succession will enable players to succeed in revealing all shrouded or blocked icons, in order to activate the Bonus Round.
The great news is that special elements, such as regular Wilds and Ruby Wilds may occur; either as results of a spin, or as Bonus Rewards for leveling up.


Crystal Land Online Slot: Wild and Bomb Symbols
A Golden W icon represents the regular Wild Symbol. It renders substitution actions whenever applicable. When forming part of a Cluster Win, the W Wild also disappears.
Red W or Ruby Wild is a special wild card. Ruby Wilds emerge in connection with Cluster Wins comprising 6 or more images. When they  become part of new Cluster Win, Ruby Wilds transform as Bomb Symbols that stay on the grid until detonation.
The Bomb Symbol – Bomb Symbols may continue to accumulate and stay locked in place. When a fresh batch of dropping symbols does not result to a win, all Bomb icons in view detonate simultaneously. The Bomb's 2-way blast will then destroy symbols around it; creating spaces to where new Crystal images from above will land.
Win-boosting features may also come around as Bonus Rewards when unraveling every row of blocked or shrouded symbols.
Crystal Land Online Slot: Level-Up Bonus Rewards
The playing field comes in three (3) Levels. Each level on the other hand, awards additional power-up feature:
Level 1 : 3 guaranteed Regular Wilds placed in random grid positions
Level 2 : 3 guaranteed Ruby Wilds placed in arbitrary locations.
Level 3 : A Coloring Potion selects a symbol that will replace another type that is already visible across the grid. This works in conjunction with Bomb Symbols. All Bomb Symbols in view, automatically explodes after symbol replacements transpire.
Level-Up Progress Bar – Winning symbol, albeit removed from the grid, fill up the Level-Up Progress Bar. Once the Progress Bar fills uninterruptedly through a series of Cluster Wins, the next game level unlocks. In unlocking each game level, one (1) of three (3) prize-awarding conditions happen:
• A Crystal Land slot player immediately receives all accumulated winnings for the series of wins that unlocked the next level; or
• All accumulated winnings for the series of wins will be awarded at 2x the value; or
• The prizes from that series of wins will be carried over to the next level. In the event that a player immediately triggers the Bonus Round in the next level, the saved winnings will likewise increase via the Bonus Round Win-Multiplier.
Crystal Land Online Slot: Bonus Round with Treasure Chest Feature
Clearing the playing field of all shrouded or blocked symbols thru a series of wins, activates the Bonus Round. Here, new symbols will not roll down to fill in empty spaces, as the objective is to clear the entire playing field.
Three (3) Coloring Potions are available to use when no winning combinations transpire after symbols disappear. The Regular Wild, the Ruby/Bomb Wilds, the Coloring Potions along with any Game Level win-boosting feature, will all work toward helping players strike as many Cluster Wins as possible. That way, they will be able to remove almost all, if not all symbols from the grid.
A Win Multiplier that increases in value by way of the Treasure Chest Feature will increase all bonus winnings.
Treasure Chest – At the onset of a Bonus Round, 3 Treasure Chests containing Stars in varying numbers, will be placed behind random symbols positioned in the three (3) Bottom Rows.
If a Treasure Chest appears during a win event, the number of Stars revealed will accordingly raise the current multiplier. At the end of the Bonus Round, all accumulated winnings including those saved if any, will increase in value based on the most recent Win-Multiplier attained.