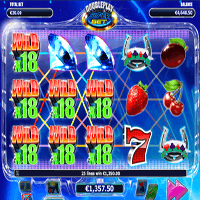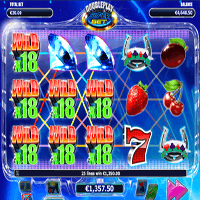 Doubleplay Superbet Video Slot Features Reels Enhanced with Wild Reels and Multipliers
Doubleplay Superbet video slot brings a different kind of slot gaming experience, offering options to enhance the slot reels with Wild Reels and Wild Win Multipliers.
A 5-reel video slot created by NextGen Gaming, the Doubleplay Superbet title is based on two win enhancing features available to slot players. The Doubleplay are options for increasing the win-value multipliers attached to the Wild Symbols. The Superbet mode, played in conjunction with the Doubleplay feature, enhances a player's chances of landing on greater number of Wilds and/or Wild Reels as spin outcomes. Those two win-boosting features continue through the Free-Spins Bonus Game, in which the Wild Win Multiplier in play, is automatically doubled.


Attributes of the Doubleplay Superbet Wild Symbol
A simple Wild logo serves as the symbol that could effectively pose as substitute for regular icons. In addition, the Wild Symbol pays for every two or more of such icons emerging as spin outcomes. Two, three, four or five Wild logos appearing in a payline pays 3, 25, 100, or 500 coins.
The default win-value multiplier of the game's Wild Symbol is x3, which increases if players choose to play in Levels 2 or Level 3.
Understanding the Doubleplay Mode
In Game Level 1 the Wild Multiplier is x3, which can be raised to x6 at Level 2 or x9 at Level 3, by betting additional via the Doubleplay feature. Doubleplay bet for Level 2 is twice the total wager placed on each spin. Doubleplay bet for Level 3 is triple the amount of wager placed on each spin.
The Superbet Game Feature
The Superbet betting feature determines the Game Level. Each level has different Wild Symbol occurrences as reel enhancements. Level 1 is played by placing 25 coins per spin, while the slot reels are enhanced by full-reel Stacked Wilds appearing in Reel 3.
Doubleplay Superbet Game Level 2 is played by staking 50 coins per spin, with full-reel Stacked Wilds appearing on Reels 2, 3, and/or 4. In Game Level 3, the full-reel Stacked Wilds could appear on all five (5) reels; playing in this level though requires staking 100 coins as wager on each spin.
The coin values to use for each Superbet option ranges from 0.01 to 2.00.
The Doubleplay Superbet Free Spins Game
A Doubleplay Superbet Badge serves as the Scatter Symbol that activates the Free-Spins Game that awards 15 bet-free spins per round. Three or more Doubleplay Superbet Badges can activate, as well as re-trigger the bonus game. It is possible for players to experience five or more successive rounds of 15 bet free spins.
Players entering the Free-Spins Game stand to receive greater amounts of winnings from matched combos formed with the help of Wild Symbols. Here, the Wild Win multipliers are doubled, becoming x6, x12, and x18 in Levels 1, 2 or 3.
Aside from activating the Free-Spins Game, the Doubleplay Superbet Badge awards Scatterpays of 25, 75, 250, or 2500, whenever two, three, four, or five of such symbol appear accordingly across the reels.