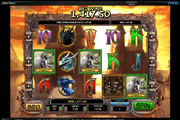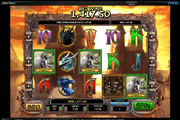 Dragon Slot -Online Casino Content Featuring Free-Spins and Dragon Fight Bonus Games
Dragon Slot is a Leander Games slot machine original, now carried for distribution by the NextGen Gaming platform. Avid online slot players will definitely enjoy this reel-spinning game. The bonus features are not only rewarding, they are entertaining as well.
Excellently crafted Dragon images in varying colors comprise top paying symbols. They land as matched groupings in any of the 20 non-fixed paylines. Yet one need not pass up any opportunity of reaping rewards from payline wins. The Dragon Slot reels are enriched with a Wild Symbol that expands if such action will complete at least one payline win. Moreover, there are two great bonus segments that award guaranteed Bonus Rewards, the "Dragons Fight Bonus Game," and the "Dragon Warrior Free-Spins Round."
[/CBC]
Dragon Slot Wild Symbol
The image of a Yellow Dragon represents the Wild Symbol. The totem randomly emerges in Reels 2, 3, 4 and/or 5 as a single tile. If an outcome of a base-game spin includes a Yellow Dragon Wild, there is a chance that it will turn into a majestic 3-tile high, full-reel, Yellow Dragon Wild Symbol. The Wild Expansion occurs, only if it will help complete winning combinations.
In the "Dragon Warrior Free-Spins Game," the full-reel Yellow Dragon is a fixture in Reel 1, as it is configured as a Locked Wild.
Dragon Slot Scatter Symbol and Scatter Wins
A fiendish looking gargoyle, seemingly the master of the fire-breathing beasts represents the Scatter Symbol. Evil looking as it appears to be, the Gargoyle Symbol awards Scatter Wins of 5, 25, or 100 coin credits whenever three, four, or five emerge in any row or reel, after a single spin.
Dragon Slot : "Dragons Fight Bonus Game"
An icon bearing the images of a White and Red Dragon tends to land as spin outcomes of Reels 2, 3, and/or 4. In the event that all 3 designated reels display a White and Red Dragon icon, the "Dragons Fight Bonus Game" will launch.
In a new game segment, players take part in an interactive mini game depicting an encounter between the Red and White Dragons. Dragon Slot players will side with the White Dragon and must aim to defeat the Red Dragon in order to win greater amounts of bonus rewards. Every attack diminishes the health of the Red Dragon, whilst earning players a cash reward. The greater the number of successful White Dragon attacks that eventually lead to the Red Dragon's defeat, the higher the bonus rewards won.
Dragon Slot : Dragon Warrior Free-Spins Bonus Game
Anticipate the emergence of three (3) Warrior icons in Reels 1, 3 and 5. The trio activates the Dragon Warrior Free-Spins Bonus Game. The default number of spins awarded is 10. Yet players can increase the numbers via another interactive game, this time between a Dragon and a Dragon Warrior.
Three (3) Dragons will be presented as choices, each with a number of Picks, maximum number of free-spins, multiplier to award, and win-level. The win-level indicates the chances of defeating the Dragon Warrior and of winning additional Free-Spins and Win-Multiplier.
Green Dragon – Has the highest win-level; awarding 4 picks that may increase the bonus spins up to 15, as well as award a 4x win-multiplier.
Blue Dragon – Has a moderate win-level; awarding 6 picks that may increase the bonus spins up to 20, as well as award a 5x multiplier.
Red Dragon – Has the lowest win-level; albeit awarding up to 8 picks that may increase the bonus spins up to 25, as well as award a 6x multiplier.
If the Dragon selected by a bonus-game player loses in the battle, 10 free-spins and a x1 multiplier will be awarded.