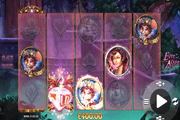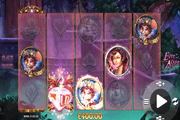 Ever After Online Slot: Fairy Godmother Fulfills Big-Win Wishes by Enchanting Symbols!
Ever After by NextGen Gaming weaves a romantic 243 win-ways storyline about fairytale wishes coming true. Images of personas and objects, characterising a seemingly poor fictional kingdom, spin as contents of a 3×5 grid. Icons depicting a peasant Girl and a Young Boy, pose as principal characters that award top pays. Yet all symbols gracing the reels as final outcomes of a spin, may get their chance of becoming a significant element. A fairy godmother named Faye, occasionally visits the kingdom, to cast spells that will improve their status.
In a random feature called "Mirror Magnificent Feature," Faye appears to enchant one or more symbols displayed by the first reel. Enchanted Symbols may upgrade into Extra Wilds. Regular Wilds may magically Expand to cover an entire Reel. If a Bonus Symbol receives enchantment, it becomes more potent; gaining capability to set off a free round with just two (2) tiles, instead of the traditional 3-symbol minimum.
The best attribute developed by Enchanted Bonus Symbols is that they award more free games than their regular counterpart. Still, every free round is well worth the wait because, the "Mirror Magnificent Feature" transpires on every spin. Any of the magical transformations may happen on every free roll, greatly boosting chances of raking in big bonus wins before the feature ends.


Ever After Online Slot Wild Symbols
A Bottle of Pink Potion acts as Wild Symbol. It can complete or lengthen a winning combination if connected to identical elements positioned in adjacent reels. Players though will get to experience other kinds of Wild occurrences, once Faye appears to enchant icons chanced upon in Reel 1. If Faye's magic spell acts on a Pink Potion Wild, this symbol and all others like it in view, expand to cover the reel
Extra Wilds – Each type of high-value paying element upgrades into a corresponding Extra Wild. Those Extra Wilds include, a Wild Bard, a Wild Knight, a Wild Wizard and a Wild Queen. Since those Wild elements may populate the grid in numbers and positions, enough to organise a winning arrangement, their combination garners a reward. One-of-a-kind Wilds or a mixed combo of any Wilds, awards 8, 20 or 300 win-credits on 3, 4 or 5 Wild elements completing a win-way.
Ever After Online Slot: Mirror Magnificent Feature
The kingdom's dark and dreary setting livens up when Faye emerges with her "Mirror Magnificent Feature." Such events occur occasionally during base games, but transpires regularly during bonus rounds.
There is great reason to rejoice therefore, if Faye chances upon a Bonus Symbol in Reel 1. After all, an Enchanted Bonus Symbol can activate a free round even with only two (2) Enchanted Bonus icons to show as winning combo. Moreover, they award a longer round of free games, compared to bonus rounds activated by unenchanted Bonus Symbols.
Should Faye's magic wand cast a spell on a regular paying icon present in Reel 1, the enchantment results to a corresponding symbol upgrade. Faye's system of upgrading each enchanted image is as follows:
Peasant Girl images become Wild Bard icons.
Young Boy images turn into Wild Knights.
Owl icons transform into Wild Wizards.
Mouse icons undergo changes as Wild Queens.
Heart, Diamond, Clover and Club Symbols, respectively upgrades as Peasant Girl, Young Boy, Owl and Mouse images, in that particular order.
Upgrades take effect only once, which means those that received enchantment revert to their original status on the next spin.
Ever After Online Slot: Free-Spins Bonus Round
A Castle Window bathed in Yellow light represents the regular Bonus Symbol that can activate a free round. A scattering of 3, 4 or 5 of this image occurring anywhere across the grid, correspondingly activates 6, 12 or 20 Free-Spins.
When appearing in its enchanted state, a Castle Window illuminates with Reddish Light. When two, three, four or five Enchanted Bonus Symbols are simultaneously on display, they unlock a set of 6, 12, 30 or 60 Free Games.
Entering a round of free games is bound to be an exciting experience; because here, Faye enchants elements in Reel 1 on every Free-Spin.
Since Bonus Symbols continue to appear as free games element, a round may extend based on the number and type of icons that converge as trigger-combo.