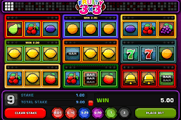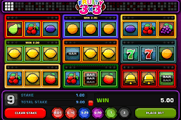 Enjoy the Fun and the Rewards – Fruity 3×3
Fruity 3×3 slot machine is quite an interesting game that succeeds in transitioning players into a happy and a calming place, which quickly happens as players open the game and see the colorful fruit symbols and bright colors that form the game, and they will also listen to the happy tune in the game's background that has birds and the sound of nature that calms and relaxing players as they spin the reels of the game. The game is powered by 1×2 Gaming, so players can expect a high paying experience that they will not regret spinning. So get ready to play 9x games in one through this fruit machine, you can try out this unique slot for free here, before placing real bets at online casinos to earn back real cash.

Fruity 3×3 Unique Format
Fruity 3×3 is one of the unique games that are powered by 1×2 Gaming. As the name of the game implies, Fruity 3×3 offers players 9x times the fun, which is indicated by the "3×3" part. This is because when players place a bet and spin the reels, they are going to spin 9 different sets of reels. Each set of reels has 3 reels and 1 payline with 1 row of fruit symbols. Players will then earn payouts depending on the symbols that have landed on each set of reels, if players match 3 fruit icons, they will earn a payout. So whenever players spin the reels, they will have a total of 9x winning chances.
Symbols and Payouts
Since the game is named Fruity 3×3, all of the symbols that will land on the reels of the game are fruits as well as symbols that are inspired from classic fruit machines. This includes lemons, oranges, bells, sevens, bar icons, plumbs and water melons to mention a few.
Players will get paid when they get 3 matching icons, the different symbols give different pays as stated at the paytable of the game that can be opened at the control panel as players click on Paytable.
As for placing the bets, players will see different coins with different values under the reels, they will click on the size they want to use to place bets and then spin the reels, of course players will have the size multiplied by 9 to form their bet, as this coin is used to place bets on all 9 reels. Players can then clear the bets by clicking on clear stake to place new wagers.