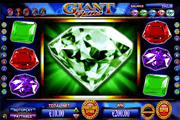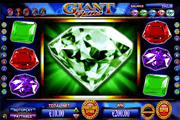 Giant Gems Online Slot – Place Side Bets to Hit Colossal Wins with Fortune Spins
Giant Gems online slot by NextGen Gaming delivers a new kind of slot play via Fortune Spins. All five (5) reels will showcase only the high-paying symbols, while enormous 3 x 3 Gemstones may appear at random in the center reels. This game has no Wild or Scatter Symbol but the Fortune Spins features make up for the lack of those elements.
Still, players have the option to run the game via Regular Spins, since reaping rewards for matched-symbol combos is as easy as 1-2-3. The game counts as a win, all consecutively appearing 3-of-a-kind symbol in any of the ten (10) available paylines. Payline win evaluation does not require combinations to originate from the leftmost or rightmost reel.
[/CBC]
Giant Gems Online Slot – Fortune Spins and Betting Options
Fortune Spins can be played by placing side bets to the regular amount wagered on each spin. In return, each Fortune Spin comes with a guarantee that only high paying matched-symbols appear as outcomes to create payline wins.
Every Side Bet added as wager, removes one of five (5) low paying icons from the slot grid. In addition, a 3 row x 3 column Giant Gem may appear to occupy Reels 2, 3, and 4. Any Reel 1 and/or 5 regular size Gem Symbols matching the Giant Gem, earn guaranteed payline rewards paid in fold.
The amount wagered as side bet depends on the regular total bet staked per payline. The greater the Side Bet staked, the greater the potential benefits.
To illustrate by way of example, let us say a player chooses to place a bet amount of 1.00 per payline. The Side Bet pay structure and corresponding benefits are as follows:
First Side Bet Option is 2.00 (1.00 + 1x payline bet) – Removes the 10 Symbol and activates the Purple Giant Gem (GG)
Second Side Bet Option is 4.00 (1.00 + 3x payline bet) – Removes the J and 10 Symbols and activates the Purple and Green GGs
Third Side Bet Option is 6.00 (1.00 + 5x payline bet) – Removes Q, J, and 10 Symbols and activates Purple, Green and Blue GGs
Fourth Side Bet Option is 8.00 (1.00 + 7x payline bet) = Removes K, Q, J, and 10 Symbols and activates Red, Purple, Green and Blue GGs
Fifth Side Bet Option is 10.00 (1.00 + 9x payline bet) = Removes all (A, K, Q, J and 10) symbols and activates all Giant Gems (Diamond, Red, Blue Green and Purple)
Giant Gems Online Slot High Paying Symbols
Four Gemstone Symbols appear as outcomes of a regular spin, the Red, the Blue, the Green and the Purple gems. The Red Gem pays the highest as it awards 100, 500, or 5000 for every 3-, 4- or 5-of-a-kind symbols appearing in a payline.
When playing via the Fortune Spins game mode, there will be five Giant Gems in all since a Diamond Giant Gem will be included. Fortune Spins payline wins created by the Diamond Giant Gem pays the highest; awarding 500x the bet staked per payline. The Red, Blue, Green and Purple correspondingly pays 400x, 300x, 200x and 100x the bet per payline for every Giant Gem payline win.