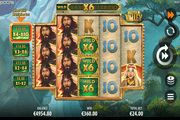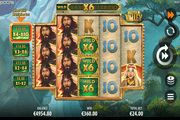 Hidden Valley Online Slot: Stacked Wilds w/ Multipliers, Available in Free Round w/ Extra Wilds
Hidden Valley online slot by Quickspin takes players on a rewarding adventure to a hidden refuge somewhere in the Himalayas. Popularly known as Shangri-La, it is said to be a protected place, in which pilgrims encounter extraordinary experience. In this 40-payline content, the concept of extraordinary comes in the form of Big Wins!
Aim to land on 3 or more alike symbols, aligning consecutively starting from the leftmost of any paying line. Achieving such objectives is highly feasible as all real elements, except the Bonus icon, are configured as Stacked Symbols. Moreover, this game produces not just ordinary Stacked Wilds; but Stacked Wilds with Multiplier Values ranging from x1 to x10. Hidden Valley players though need to place additional bets, to ensure Wilds with greater Multiplier Values will occur as outcomes.
A Multiplier Bet Panel on the left side of the screen, shows the range of Multiplier Values available on a specific Bet per Spin.
In free rounds, any of three (3) top paying characters may become Extra Wild Symbols.Simultaneous occurrences of Extra Wilds and Stacked Multiplier Wilds, all the more heighten players' chances of hitting multi payline combinations that result to Big Bonus Wins!


Images of the Male Traveler, reward players with the highest range of cash prizes. Three, four or five of this icon appropriately completing a payline combo, awards 10x, 20x, or 50x the Coin Value staked as Line Bet.
Hidden Valley Online Slot: Wild Symbol
Any Multiplier Wild that helped complete a winning arrangement, increases the resulting payout based on the Multiplier Value displayed. The Multiplier Panels at the top and on the left side of the screen will also display the prevailing Multiplier factor.
In case an array of Multiplier Wilds land as winning contents of a paying line, the longest arrangement formed, garners a corresponding payout. A mix of 3, 4 or 5 Multiplier Wilds composing a payline win, pays out 20x, 30x or 300x the Coin Bet staked as payline wager.
Hidden Valley Online Slot: Bonus Round
Images of a Bonus Wheel emerging only in Reels 2, 3 and/or 4,.take part in this game as Bonus Game trigger-elements. If all 3 Reels return after a spin with Bonus Wheel displays, the event unlocks the Free Games Bonus Wheel. In addition, the three (3) Wheel Combo awards an instant cash bonus, equal to 2x the Bet placed as wager per spin.
Pay attention to the three (3) top paying Character Icons in the outer wheel. The icon that lands as outcome of a single wheel-spin, upgrades as Extra Wild Symbol in the forthcoming bonus round. However if the indicator lands on an empty segment, the free games proceed without an Extra Wild. On the other hand, the number displayed as outcome of the inner wheel, establishes the number of Free-Spins constituting the Hidden Valley Bonus Round.
Hope to land two (2) Bonus Wheels Symbols during a free round. The Wheel icon turns into a clickable cell that reveals either Extra Free-Spins or an Extra Wild Symbol. Players though can choose only one Mystery Bonus Wheel icon.