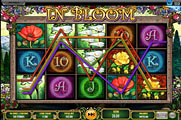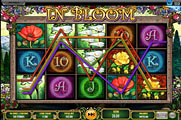 In Bloom Slot Machine
In Bloom is a very refreshing and an exciting game that has a beautiful and a shiny theme, as apparent from the title of the game, it is themed around blooming flowers that shine in the sunlight. This is why all of the symbols that will appear on the game's 5 reels and 40 lines depict different colored flowers. The game is powered by IGT, this is why the theme is unique and the game succeeds in providing players with a one of a kind experience that can't be found anywhere else online. The symbols and the other visuals of the game are top notch, and the game is accompanied by a refreshing soundtrack that will help players get immersed even more into the flowery theme of the game.

In Bloom Slot Machine Gaming Procedure
Before players can spin the reels and start enjoying the wonderful game, they will have to place a bet, which is the case with most if not all video slots. The game has a very simple wagering process as there is only one betting option that players will change which is the value of the coins. It varies between 1 and 50 credits per coin. Players will have to place 50 coins whenever they want to spin the game in order to activate the 40 lines + the special feature of the game. When players click on spin to begin the game, they will start seeing the beautiful flower symbols spinning on the 40 lines and the 5 reels of the video slot.
The special feature of the game is when flower symbols are a part of a winning combo, they may transform. Each flower symbol can transform into a symbols that has 1 flower, 2 flowers and up to 5 flowers. They will also contribute in giving high rewarding according to the number of flowers. Also, each number of flowers may appear on certain reels. In order for players to know more about this feature and check out the different flowers and their transformations, players can click on the Paytable button that is found on the top left area of the screen.
Apart from this rewarding feature, there are special symbols as well. There is the bonus symbol that only lands on the third reel. Three of these bonus symbols on the third reel will multiply the bet that the players have placed by 60x.
The other special symbol is the butterfly bonus symbol, which can trigger the Garden bonus round. This will only happen when 2 or 3 butterfly symbols land anywhere on the reels. Also, the previous bonus symbol can also count as a butterfly. When only one of these symbols land on the third reel, the butterfly may fly over on the reels and trigger the bonus Garden round. Players will then choose a flower to earn the great rewards that it has in store, this includes free spins and multipliers.