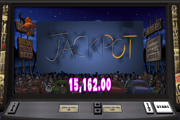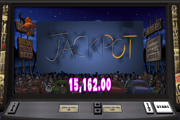 It Came from the Moon – Fun and Entertaining ET-Themed Online Slot
It Came from the Moon (ICFTM) online slot is a reel-spinning adventure presented as a close-encounter-with-extraterrestrials themed game. Developed by Realistic Games and deployed by NextGen Gaming, this 20-payline slot features a Bonus Game that awards guaranteed monetary prizes.
The reel contents are illustrated as comic-strip segments about an alien invasion that started at a drive-in theater. An Alien Spaceship ("And in the skies above…"), the Moon (It was almost as if…), Laser Gun (Atom Boiling Horror), and Woman (Argggh!!) are high paying regular icons; all of which award up to 1000 coins for every five-of-a-kind grouping in a payline. The game also makes use of the standard A, K, Q, J and 10 symbols, as reel icons with minimal pay values.
[/CBC]
Yet the ICFTM symbols that could bring the highest payline wins are the Wild Symbol and the It Came from the Moon Logo. Those two icons bring the highest payline wins of 10,000, 2500, or 100 coins respectively, when appearing in the following 5-symbol, 4-symbol, 3-symbol combinations:
• ICFTM Logo + Wild + Wild + Wild + ICFTM Logo
• ICFTM Logo + Wild + Wild + Wild
• ICFTM Logo + wild + Wild
It Came from the Moon Game info states that as many as 40,000 coins multiplied by the Bet Staked per Line, can be won for landing matched -symbol payline groupings.
Yet there is more to look forward to as additional wins, once slot players enter the "It Came from the Moon Bonus Game." Here, bonus game players stand to receive surefire bonus prizes via a simple Pick and Click play.
It Came from the Moon Bonus Game
The bonus segment sets off once three (3) Drive-In Signage icons ((Then suddenly it began…) land simultaneously in Reels 2, 3 and 4.
The Bonus Game panel presents five (5) rows of eight (8) alien spacecrafts that players must click on to shoot down one row at a time. Each object selected may reveal a monetary reward, a win-value multiplier or a Moon Bug. If a monetary reward is revealed, players can continue to click on other spaceships in order to collect more prizes.
However, in the event that an object selected reveals a Moon Bug, the picking and clicking exercise for that row ends. Bonus Game players have to proceed to the next row and perform the same procedures and in accordance with the same game mechanics. After reaching and completing the fifth row, bonus games players will be taken automatically to the Mother Ship to reveal and receive the Mystery Jackpot.
"It Came from the Moon Bonus Game" players could get lucky by clicking and revealing all monetary prizes in each row before hitting the spaceship with the Moon Bug. That way, they can collect as many monetary prizes as possible before proceeding to the next level.
Revealing a Win-Value Multiplier would produce a more lucrative outcome. At the end of the "It Came from the Moon Bonus Game," all prizes unraveled will be added, and the sum will be multiplied by the Win-Value Multiplier previously revealed.