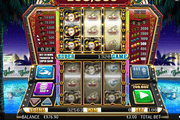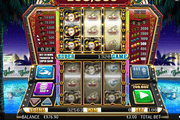 Jackpot Jester 200000 Online Slot: Play Super Game to Win Super Payouts!
Jackpot Jester 200000 online slot by NextGen Gaming is another neoclassical rendition of the 3-reel type of slot game. This sequel actually upgrades the first Jackpot Jester 50000 title. Players can still activate the Super Game by placing 20 credits as bet per spin; as well as transfer a minimum of 100 base game win-credits to actually play the Super Game. The big difference is that in this version, the Jackpot Jester icon pays on a scattering of 3 or more in the Super Game board.
This Jackpot Jester 200000 edition continues to offer betting options of 10-credit and 20-credit wagers per regular spin. The 10-credit bet is purely for standard play. Similar to the original Jackpot Jester content, staking 20-credit Bets per spin, permits access to the Super Game feature.
All win-credits collected by way of base and Super Game spins are multiplied by the coin denomination used as bet-credit value.


The Number 7 and the Bell icons continue as high-paying symbols. On standard base plays running on a 10-credit or 20-credit Bet, the Number 7 correspondingly draws out a 200 or 400 credit-win. The Bell totem on the other hand, bestows 150 or 300 win-credits, respectively. In a Super Game run, the Number 7 and Bell icons, correspondingly pay 3000 and 2000 credits on a 3-symbol win.
Jackpot Jester 200000 Wild Symbol
The Jester is still the Wild Symbol that can represent any element needing to complete a payline combo. Wild substitutions may transpire in both base and Super Game grids.
Yet in the Super Game board, a set of 3, 4, 5, 6, 7, 8 or 9 Jackpot Jester icons, can form a winning Scatter Combo; garnering 100, 500, 1000, 4000, 20000, 50000 or 200,000 win-credits, respectively.
Jackpot Jester 200000 Online Slot: Super Games
Base-game winnings, generated by a 20-credit bet, are automatically displayed in the Super Game bet panel. However, unless a player clicks or taps on the Arrow Up or the Receiving Hand button, the disposition of winnings remain on hold.
If a player continues to spin while in a base game mode, all bets staked as wager per spin will be deducted from the player's bankroll.
Tapping on the Receiving Hand icon, signifies intention to collect one's winnings. If so, the total win-credits displayed by the Super Game bet panel, will then be transferred to the player's gaming credits. Forthcoming spins therefore will carry on as base game plays.
If a player taps the Arrow-Up button, the Super Game initialises by highlighting the special game board. However, to actually spin the super reels, the the Super Game bet panel shiukd have at least 100 credits. If there is less than 100 credits, players have to land additional base game winnings in order to meet the betting requisite.
Jackpot Jester icons occur as Super Stacked Symbols in any reel; heightening possibilities of completing super-paying payline combos. In a 3×3 structure, Stacked Jackpot Jester 200000 icons landing on 1 or 2 reels, can boost chances of hitting multi winning combos.