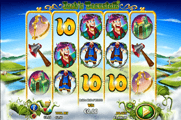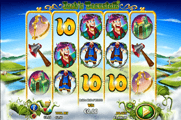 Jacks Beanstalk Slot Machine Review
Jacks Beanstalk is one of the well known stories that we all heard as children, and even watched cartoons and movies about it. It is about a farmer named Jack who lives in a fairy tale land where he finds a magical beanstalk. When this beanstalk is planted and watered, it is going to grow exponentially forming a ladder to another world that is found up in the skies, the home of the giants. He goes there to explore and find only danger, and he does his best in order to escape, and to cut that plant to stop the giants from coming down and claiming this world as their own. That is not all, as Jack will find the Golden Goose that lays down golden eggs. So players will not only enjoy the action packed ride as they will get to claim many golden fortunes.
This is why as players open the game, they will see Jack, giants and clouds in the background. The game is offered to players in awesome visuals and sound effects, which helps in creating a truly engaging and an immersive gaming experience that will always encourage players to come back for more. This is barely a surprise, since the game comes from the portfolio of none other Next Gen gaming, which is known for its quality games.

Symbols and gaming Format
The symbols of the game are all inspired by its theme and story. This is why players will see plenty of clouds, the golden goose, Jack, Giants, the magical beanstalk, the plant, a golden harpoon, an axe and golden poker symbols. Since the game is about Jack and the magical Beanstalk, as players open the game, they will see a small animation that takes them into the magical world of fairy tales through the clouds.
The symbols will be landing on the 5 reels of the game and the 25 win lines that the game has to offer. Players will place their desired bets on such lines and then begin to spin the reels to start earning the great fortunes and prizes that the game has in store for them.
BONUS FEATURES AND SYMBOLS
The magic beans can appear anywhere on the 2nd, 3rd and the 4th reel and when that happens, they are going to trigger the Up-wild feature. This will cause 3 free games with the up growing wild taking over the entire reel it landed on. Players can re trigger this special feature when they get another magic beans symbol on these reels.
The slot also comes with a Pick Me bonus that is triggered when players get 3 golden goose symbols anywhere on the reels. They will pick these geese to reveal the hidden golden prizes that they have.