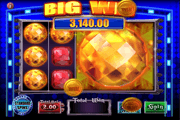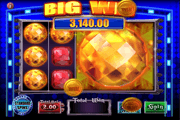 Jewel Strike Online Slot: Strike it Big with Colossal Reels and/or Epic Spins!
Jewel Strike by Blueprint Gaming is a 10-payline icon-matching game, furnished online by NextGen/NYX Gaming. Although configured with pay patterns on which Jewel icons land as winning combinations, this online slot also pays on all consecutively appearing 3 or more symbol groupings. Pays on consecutive matches are awarded, regardless of where the initial Jewel icon originated.
Jewel Strike players have great chances of striking Big Wins, or even Huge Mega Wins via the Colossal Reels, and/or by way of Epic Spins. The Colossal Reels emerge at random, while playing with Epic Spins is optional. The straightforward symbol-matching rules and special win-boosting features make it easy for players to land on winning combinations, even without a Wild Symbol.
[/CBC]

Jewel Strike Colossal Reels Feature
The Colossal Reels constitute 3 rows and 3 columns of tiles that contain enormous icons. A randomly appearing reel element that is guaranteed to bring multiple winning combination, each block of Colossal Symbol represents numerous and guaranteed 3-symbol matches positioned consecutively in adjacent reels.
The outcome could prove to be exceptional if the non-Colossal reels produce images that match the Colossal Symbol.
The Gold Nugget, for one, has potential to bring the greatest amount of winnings, being the highest paying symbol of the game. It awards cash rewards of 10x, 50x, or 500x the Total Bet for every 3, 4, or 5-of-a-kind groupings. A lucky Jewel Strike player, landing on purely Gold Nugget icons spread across the entire set of reels, stands to receive as much as 5000x the Total Bet staked on the spin that produced the huge win!
The prizes in store may even be bigger if the game is played by way of Epic Spins.
Jewel Strike Online Slot: Epic Spins
The Epic Spins feature is a gaming option that requires higher wagers per spin. In return, and depending on the option taken, some or all low-paying icons will be eliminated as potential outcomes of a spin.
• Epic Spin Option 1 is to place 5x the Total Bet in order to remove Q, J and 10 icons from the reels.
• Epic Spin Option 2 is to place 10x the Total Bet, in order to exclude K, Q, J, and 10 symbols from the reels.
• Epic Spin Option 3 is to place 20x the Total Bet, in order to eliminate all low paying icons (A, K, Q, J, and 10) from the reels.
This gaming option also removes the corresponding Colossal Reels of eliminated icons. However, Epic Spins games are not playable by way of Autospins.
Jewel Strike Betting Options
The standard betting options are Total Bets ranging from 0.20 to 25.00. Each standard bet covers all 10 paylines. A Total Bet of 0.20 is equivalent to stakes of 0.02 coins on each payline, while the 25.00 Max Bet is equivalent to stakes of 2.50 coins per payline.
To play the game with Epic Spins, Jewel Strike players must first select a Total Bet. The value will then be multiplied 5x, 10x, or 20x as Epic Spins wagers.