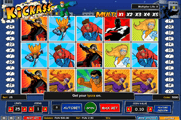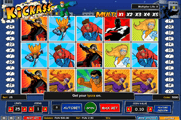 Join Kickass and Fight Crime for Many Prizes
The movie Kickass was really a unique movie, the first of its kind, as it took a whole new and a unique approach to the superhero niche. Instead of super powered humans or rich billionaires, it focused on normal people who can choose to wear a cap and become superheroes, or, super villains. It showed that we can be whatever we want to be. 1×2 Gaming has decided to bring that movie into the world of online gaming by creating a slot machine that will take players into that movie as they join the superheroes who kickass while earning the great rewards that the game has in store for them through the reels and the lines of the game,as well as its bonus features and prizes.
Gaming Format and Visuals
Kickass is a video slot machine that is developed by the team at 1×2 Gaming it is themed around the movie that has the same name, Kickass. The game allows players to join the ordinary every day people who turn into super heroes vigilantes who kickass all night long as they bust criminals and try to stop the super villain from committing his evil plan to take over the world.
The game has 5 reels that boast a grand total of 20 lines that players will have the chance to place bets on and earn great rewards. As for the visuals of the game, they are all inspired by the capped superheroes of the movie, and they come in comic-book like graphics. The symbols include the different superheroes and super villains that are going toe to toe in a battle to rescue/take over the city.
Gaming Options and Wagers
Like any 1×2 Gaming powered slot, the game has an easy to use control panel that is found in its usual location under the reels. Players will find the wagering options to set their bets as they choose how many of the 25 lines they wish to activate, the amount of coins and the value of coins.
Other helpful buttons include the Max Bet option, Win lines, Paytable and the Auto bet features that gives players the chance to spin the reels automatically with a set bet.
Bonus Features and Symbols
The game is stacked with many bonus features and symbols starting from the wild "boom" symbol that would substitute for all other icons on the game's reels and lines to help players get a reward, but it won't replace the other special icons that the video slot has.
Speaking of other symbols, there is the Free Spins could that can trigger the bonus round of the game, the Scatter Black Boon that gives out scattered payouts and the dark super villain symbol that would give out multiplied payouts.