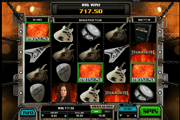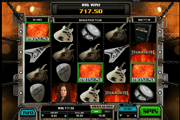 Megadeth Video Slot: Amazing Free-Spins and Instant Wins Awarded by Mega Wheel Bonus Feature
Megadeth is a branded Leander slot machine game configured as a 4-row x 5-column reel-spinning game with 50 paylines. This game is accessible at online casinos powered by the NextGen Gaming platform; enabling players worldwide to experience the thrills of reaping excellent rewards via Megadeth Band- reel icons and bonus features.
The Wild Symbol may Expand or Lock in place to improve spin outcomes. The Bonus Game symbol on the other hand, may trigger the Multilevel Multigame Mega Wheel.
[/CBC]
Megadeth : Wild Symbol
The image of Megadeth founder David Mustaine represents the Wild Symbol. A Mustaine Wild comes into view in any reel as a single tile icon. After a base game spin, the Mustaine image may expand to become a full-reel, 4-tile high Wild Symbol; but only if the expansion action will result to at least one payline win.
During a Free-Spins Round, Mustaine Wilds appearing as outcome/s of a bonus spin stay locked in position throughout the free games.
Megadeth : Bonus Game Symbol
Megadeth fans will instantly recognize Vic Rattlehead, the skeleton figure wearing a riveted gas mask. The image is Megadeth's mascot symbolizing the "see, hear, speak, no evil" tenet. In this online slot, it represents the Bonus Game Symbol that can trigger the activation of the Mega Wheel Bonus Feature.
Vic Rattlehead though, emerges only in Reels 1, 3 and 5. If after a spin, all three reels include the Megadeth mascot's image, the game initiates the activation of the Mega Wheel.
Megadeth : Multilevel, Multigame, Mega Wheel Bonus Feature
The Mega Wheel bonus play comprises three (3) game levels and three (3) types of Bonus Rewards. A virtual spin of the wheel determines the Bonus Reward that will be awarded. However, a bonus prize also determines if a player will advance to the next game level or not.
At Level 1, if a player's Mega Wheel-spin lands on a prize with a green arrow, it denotes that the bonus wheel game will proceed to Level 2. On the other hand, landing on a bonus prize with a "Bonus Ends" sign, will mean just that. The Mega Wheel feature will be deactivated after the Level 1 Bonus Prize is awarded and/or played. The same game mechanics is observed in Level 2; progressing to Level 3, depends on the Level 2 Mega Wheel result.
The Mega Wheel Bonus Rewards include an Instant Win, entry to the Hangar 18 Free-Spins Round or access to the Head Crusher Bonus Game. Advancing to higher Game Levels will entitle players to greater amount of bonus prizes, higher value-multipliers, or increased number of free-spins.
The Instant Win prize wedge indicates a value multiplier that determines the instant cash prize that a Megadeth bonus player will receive.
The Hangar 18 Free-Spins Round awards 5, 6, 7, or 8 bet-free spins. During the free games, a single tile Mustaine image emerges in any reel as a Locking Wild. If two, three, four, or five Mustaine Wilds are positioned in a payline during the round, the highest combination formed after a bonus spin awards 5, 50, 250, or 500 coin credits accordingly.
The Head Crusher Bonus Game is a Pick and Click Bonus Game. The bonus game depicts the message of a Megadeth single with the same title. Here, players will select one of numerous hooded prisoners in order to reveal a mystery cash prize.
Five of those prisoners though are bound to be tortured with a medieval device called Head Crusher. If a player chooses one such prisoner, the pick-and-click exercise continues. Players gain a chance to increase the current Head Crusher bonus win. However, if a player inadvertently selects a prisoner who will be pardoned, the Head Crusher bonus game will end.