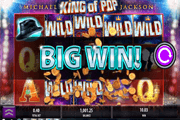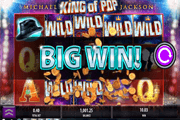 Michael Jackson King of Pop Online Slot with Moonwalk Wilds, Jackpot Wilds and 2 Bonus Games
Michael Jackson online slot showcases the King of Pop, his iconic dance moves, hit songs, signature outfits and accessories in a 3-row by 5-reel slot grid configured with 25 paylines. Created by Bally Technologies and powered by SG Interactive, this online casino real money game is filled with Wild Surprises. At random occasions, the King of Pop appears to add Moonwalk Wild Symbols or Stacked Wilds in two or more reels.
Michael Jackson slot players can also look forward to landing on Jackpot and Bonus Scatter Symbols, as the related features award guaranteed prizes.


Michael Jackson Wild Symbols
Single tile icons labeled as WILD randomly appear as outcomes of a spin. When emerging in a payline together with matched images of Michael's Gloves, Fedora, Black Shoes, Sunglasses or the standard A, K, Q, J, 10, and 9 Symbols, Wild icon/s can complete or lengthen a payline combination by posing as substitute symbol.
The WILD Symbols can also form winning payline combinations, awarding as many as 40x, 150x, or 500x the Bet staked on each line. The odds of landing on WILD payline combinations are high because EXTRA WILDs may appear at random. If the King of Pop makes an appearance to execute his "Billy Jean" Moonwalk Dance, Moonwalk Wilds will be added to the reels.
Arbitrarily, a short video clip of Michael's "Bad" MTV may occur during an ongoing spin. The occurrence will bring on two or more Stacked Wilds that will form part of the impending spin outcome.
Moonwalk Wilds and Stacked Wilds substitute only for regular symbols. Yet if a Bonus Scatter or a Jackpot Scatter appears in the same payline as a Moonwalk or Stacked Wilds, the two Scatter Symbols may also pose as eligible substitute icon. At the same time, they can still initiate the related Bonus or Jackpot Game in accordance with their respective feature conditions.
Double Wilds are WILD/s that double the equivalent payout of the payline combinations that it helped complete.
Michael Jackson King of Pop – Jackpot Scatter Symbol
The MJ image labeled as JACKPOT awards Scatter Wins for as few as two (2) of such symbols emerging in any row or position. After a base game spin, two, three, four, or five MJ Jackpot Symbols in view across the reels, and regardless of position, award 2x, 50x, 500x, or 2500x the Total Bet wagered on the triggering spin. This feature however is not available in the Bonus Game Free-Spins.
Michael Jackson King of Pop – Bonus Wheel and Free-Spins Games
The BONUS icon also awards Scatter Wins; but in the form of instant coin prizes or free-spins. If a base- game spin outcome shows three Bonus icons within the centerline of Reels 2, 3, and 4, the virtual Bonus Wheel will be activated. Bonus game players will then spin the Bonus Wheel to determine their reward.
The Bonus Wheel prizes include various coin credits of up to 1000, entry to the "Beat It" or "Smooth Criminal" Free-Spins Bonus Round, or coin credits with value-multipliers.
The "Beat It" Free Games award ten bet-free spins. In this free game mode, all types of WILD Symbols emerging as outcomes of bonus spins, will stay locked in their respective place up to the end of the free round.
The "Smooth Criminal" Free Games award five bonus spins. During the round and after each spin, Stacked Wilds will occur in specific reels accordingly:
• 1st Free-Spin = Stacked Wilds in Reel 5
• 2nd Free-Spin = Stacked Wilds in Reels 4 and 5
• 3rd Free-Spin = Stacked Wilds in Reel 4
• 4th Free-Spin = Stacked Wilds in Reels 2 and 3
• 5th Free-spin = Stacked Wilds in Reels 1 and 2