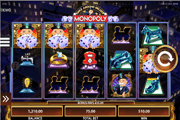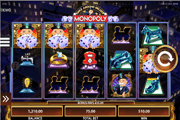 Monopoly Once Around Deluxe: Online Edition of a Feature-Rich WMS Slot Machine Content!
Monopoly Once Around Deluxe, is one of a series of popular Monopoly-themed slot machine games created for land-based gaming by Williams Interactive. Now accessible at online casinos powered by the SG Interactive gaming platform, the online version still features the special reel elements and bonus games that make the Monopoly-inspired series an easy favorite.
Here, not just one but three (3) reel icons, namely the Community Chest, the Chance and Rich Uncle Pennybags images trigger features that bring guaranteed bonus wins!

Monopoly Once Around Deluxe: Wild Symbol
The image of Rich Uncle Pennybags, known worldwide as Mr. Monopoly, is Wild. It may substitute for regular symbols to complete or extend winning combinations of identical images aligned with Mr. Monopoly in any payline.
In fact, the icon of Rich Uncle Pennybags itself is the highest paying symbol of the game. If 2, 3, 4, or 5 Mr. Monopoly Wilds emerge as matched combos in a payline, as much as 20x, 200x, 1000x, or 20000x the bet staked per line will be awarded. A great combination is a 75.00 Max Bet and a 5-of-a-kind Mr. Monopoly Wilds as this results to a monetary reward of 100,000.00 (75.00/15 paylines x 20,000 coin credits).
Monopoly Once Around Deluxe Bonus Symbol and Bonus Games
The Rich Uncle Pennybags image also emerges as a Bonus Game Symbol but one with a pair of dice. Three, 4, or 5 Mr. Monopoly Bonus Game Symbols appearing as winning combinations in a payline award not only coin credits of 5x, 10x, 25x, or 250x the bet wagered per payline. Any bonus symbol win-event also activates the Once Around Deluxe Bonus Game.
The Monopoly Once Around Deluxe Bonus Game is an interactive segment played like a virtual Monopoly Board Game. Bonus Game players select a token to use in completing a round. A pair of dice is likewise rolled to determine the number of positions by which a token will advance.
On every property landed on by a token, bonus rewards are won. The total bonus wins will be awarded once the token reaches or goes past the GO position. At this point, the bonus game ends. Yet if in the last leg, the number revealed by the rolled dice brings the token directly to the GO position, Monopoly Once Around Bonus game players will play another round of the virtual board game.
Twice Around Bonus Game gives players another chance to win additional bonus rewards as their tokens land on board game properties. This time though, all bonus wins will be paid twofold (2x). Once the dice number brings the token directly or past the Go position, the Twice Around Bonus Game ends, and all wins including those won from the Monopoly Once Around game will be awarded.
Monopoly Once Around Deluxe: Special Symbols
The Community Chest and Chance (?) icons are both Scatter Symbols. Whenever three or more identical images of those symbols emerge after a spin, Scatter Wins at 5x, 20x, or 200x the Total Bet staked will be awarded as additional wins.
The Car, Shoe, and Dog Tokens also appear as reel icons. Any combination of those three images appearing as payline symbols, qualify as wins. A Mr. Monopoly Wild substitution may also help complete the mixed combo. Three, 4, or 5 of such reel icons completing a mixed-symbol payline grouping award as much as 10x, 30x, 70x the bet amount wagered per payline.