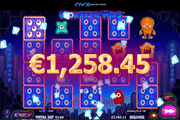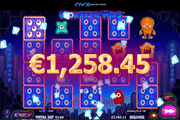 Monster Wins Online Slot: Boss Monster Reels Bring Monstrous Wins!
Monster Wins is a NextGen Gaming homegrown online slot configured with 1024 ways to win on matching reel images. Albeit monster-themed, the quaint creatures hardly look fiendish. Actually, they are enjoyable to look at, especially when emerging as matched identical-symbols lined up consecutively, starting from the leftmost reel. Add to those the soft harp-like sound effects that emphasize each win-event.
Monster wins can be brought around by the Boss Monster, the square 5-eyed Blue Blob that appears in whole, or in part as Stacked Symbols in any reel. A full-reel, 4-tile high Boss Monster emerging in Reel 1 spawns additional Boss Monster icons, increasing the likelihood of landing on huge rewards from a single spin!
[/CBC]

All 1024 ways to win are in play with each spin, and wins may happen in any of the 4-rows x 5-column slot. Online casino players must place 50 coins to cover all pay-ways in every turn. Stakes per spin are determined by the coin value selected, of which the choices range from as low as 0.01 up to 2.00. The lowest possible bet to stake per spin is 0.50 (0.01 x 50 coins) the maximum bet per spin is at 100.00.
Monster Wins Online Slot: "Unleash the Boss Monster" Feature
The Boss Monster is the huge blue creature appearing off-screen whenever monster wins occur. Its icon is the highest paying symbol, awarding 5, 25, 50 or 100 coin credits for every 2, 3, 4, or 5 adjoining Boss Monster images. Boss Monster wins are not hard to come by as the icon is configured to appear as a single-tile, or as 4-tile Stacked Symbol in any reel; more so, if the "Unleash the Boss Monster Feature" is activated.
If the 4-tile Boss Monster Stacked Symbols appear in its full glory in Reel 1, the game unleashes more Boss Monster images to replace random monster symbols produced by a spin. The feature may add more than one Boss Monster icon, in single tiles or in full-reel stacked tiles.
In the Free-Spins Round, the activation of this feature may have greater impact because in the Bonus Reels, a full-reel, 4-tile, Boss Monster Stacked Symbols is a fixture in Reel 1.
Monster Wins Online Slot: Wild Symbol
A Wild Symbol emerges now and then as outcome of a spin; although configured to appear only in Reels 2, 3, 4, or 5. That being the case, Wild Symbols cannot form its own winning combination. Yet a spin outcome with both Wild Symbols and Stacks of Boss Monster images in position may bring the most advantageous results.
Monster Wins Online Slot: Free-Spins Bonus Game
The free-spins round is activated whenever a trio of the Bonus Scatter Symbol emerges after a spin. In addition to the free-games, Scatter Wins will also be awarded. Whether three, four, or five Scatters emerge simultaneously after a paid or bonus spin, Monster Wins bonus game players will receive three bet-free spins.
The Scatter Rewards though depend on the number of Bonus Symbols that came around as trigger combination, as the game awards 100, 500, 2500 coin credits, correspondingly.
As mentioned previously, the bonus reels are enhanced with a full-reel Boss Monster Stacked Symbols. This denotes that the "Unleash the Boss Monster Feature" will be in play throughout the three free games.