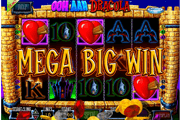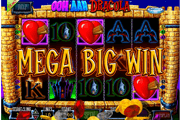 Ooh Aah Dracula Online Slot – Players May have 2nd and/or 3rd Chances of Reaping Bigger Bonus Wins!
Ooh Aah Dracula is a 10-payline online slot that adds extra thrills to winning Bonus Rewards. In every "Heart Attack" Free-Spins round activated, players may still have a chance to trigger and play the "Stake it or Leave It" or the "Super Stake It or Leave It" Free-Spins Games. The latter two, presents second or third chances of reaping greater bonus rewards by playing a second or a third round of Bonus Games. The odds of collecting more winnings are enhanced by one or more regular symbols that turn into Extra Wilds throughout the free round.
Ooh Aah Dracula game developer Barcrest/SG Interactive, also configured the online slot with Hi Roller Betting Options. A set of 5 spins launched with a single Bet guarantees the awarding of a Graveyard Bonus after a round of Free-Spins.

Ooh Aah Dracula Free-Spins Bonus Games and Stake-Pierced Heart Bonus Symbol
The Stake-Pierced Heart symbolizes the Bonus Game Trigger Symbol. Three of such symbols appearing anywhere across the reels, trigger the Heart Attack Bonus Game. Barcrest added a twist to this feature though. The reels may produce additional Stake-Pierced Heart Symbols that will activate a Bonus Game constituting two (2) or three (3) rounds of bet-free spins.
After the Bonus Game Trigger Symbol emerges, the game will remove all other icons, leaving the Stake-Pierced Heart icons locked in place. Reels will respin displaying only Stake-Pierced Hearts as possible outcomes. If the reels return with 4 or 5 of such symbols in any position, players will have a chance to play the "Stake It or Leave It" or "Super Stake It or Leave It" Free-Spins Round. If not, a bonus game player will continue playing the Heart Attack Bonus Game.
Heart Attack Bonus Game is the default bonus round. Ten (10) free-spins will be awarded and played on reels configured with Extra Wilds. The Additional Wild Symbol will be determined prior to the start of any free-spins bonus game. The Heart Attack Bonus Game runs only once for each triggering spin; denoting that this set of free games cannot be retriggered.
"Stake It or Leave It" Bonus Game – Four Stake-Pierced Hearts will activate this bonus feature. This segment constitutes 2 Free-Spins Rounds. However, Round 1 winnings have to be forfeited if a bonus game player wishes to vie for higher bonus wins via the Round 2 Free-Spins. Although the Round 2 Bonus Game awards only 10 free-spins, the reels will be enhanced with Regular Wilds and 2 Extra Wilds to boot.
"Super Stake It or Leave It" Bonus Game – is activated by 5 Stake-Pierced Heart icons. Three rounds of free-spins are available. Like the" Stake It or Leave It" Bonus Game, playing the Round 2 or Round 3 requires forfeiting any winnings gained from previously played bonus spins. Round 3 consists of 5 free-spins and adds 3 Extra Wilds.
The Strategy Indicator may help players decide whether or not to proceed to the 2nd or 3rd round. If the Skeleton Hand is leaning leftward, Ooh Aah Dracula game statistics surmise that the best strategy is to take caution by collecting one's current winnings.
On the other hand, if the Skeleton Hand is leaning rightward, playing in the next round will be the best strategy to take. Still, Ooh Aah Dracula game info states that the evaluation of the indicator does not guarantee the outcome of the 2nd or 3rd Rounds.