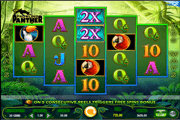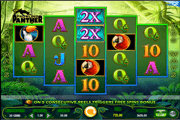 Prowling Panther Online Slot – MultiWayXtra and 2X Wild Symbol for Potential Big Wins!
Prowling Panther online slot is one of IGT's most popular online casino offerings. This does not come as a surprise since the jungle-themed content features the MultiWay Xtra 720 Ways-to-Win scheme, along with a win-boosting 2X Wild Symbol. The combination of those two amazing features increases the possibilities of landing on multiple and top-paying symbol combinations.
About IGT's MultiWayXtra 720 Ways-to-Win Scheme
Matched symbol combinations of two, three, four, or five reel icons are recognized as wins if they appear simultaneously and in consecutive columns, regardless of each icon's reel-position. Only those originating from left to right are counted as wins. Yet if there are two alike symbols in a single column, the extra symbol also forms its own matched combination along with those appearing in the adjacent columns.
[/CBC]

Payouts apply only to the highest paying combination of a MultiWayXtra Winning Symbol. This denotes that even if a 5-of-a-kind-combo also consists of 2, 3, or 4-of-a-kind wins, the equivalent payout for that particular grouping will only be for the 5-of-a-kind match. If another like symbol in the same column further completes a supplementary set with the other adjacent symbols, the game recognizes this as another MultiWayXtra Win.
Overall, the Prowling Panther slot reels could produce as many as 720 winning combinations per spin. The chances of landing on a great number of MultiWayXtra Wins with a single spin, are enhanced by the game's 2X Wild Symbol.
The Prowling Panther 2X Wild Symbol
The 2X icon represents the Wild Symbol and it appears only in Reels, 2. 3, and/or 4. Aside from its inbuilt attribute as eligible substitute for regular reel icons, the 2X Wild Symbol also doubles the matching symbol. Let us say that there are three Black Panthers appearing in Reels 1, 2, and 3, and one (1) 2X icon in Reel 4, the set of matched symbols will then be recognized as a 5-of-a-kind combination.
The next best thing about the 2X Wild icon is that it tends to emerge as Stacked 2X Wild Symbols, therefore creating greater possibilities of landing on more than one MultiWayXtra Wins with a single spin.
Prowling Panther Online Slot Free-Spins Bonus Round
IGT's Game Info states that the Prowling Panther Free-Spins Bonus Reels are richer with MultiWayXtra Win possibilities. Five (5) Gold Panther Bonus Symbols appearing consecutively in each of the five reels trigger the launch of the bonus-rich segment.
Initially, Prowling Panther bonus game players receive eight (8) free spins. Yet in light of the MultiwayXtra feature, it is possible to land on more than one (1) set of the 5-of-a-kind triggering Gold Panther combination. This means that Prowling Panther Free-spins players have great opportunities of receiving more than eight (8) bet-free spins as initial bonus reward. According to IGT, multiple sets of 5-of-a-kind Gold Panther Bonus Symbols could activate up to 96 free spins as initial set of bonus spins.
Moreover, the Gold Panther Bonus Game icon remains active during the free games. Should another group of five (5) re-emerge, then another set of eight (8) free spins will be added to the remaining bonus spins. Multiple re-triggers are possible, and the game is capable of activating 256 free-spins as maximum number of rewards per bonus round.