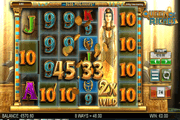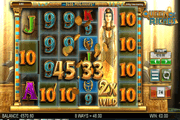 Queen of Riches Online Slot – Innovative Megaways and Reel Clone Feature with Wild Multiplier
Queen of Riches online slot delivers a novel way of furnishing players greater odds of landing on matched-symbol combinations. Big Time Gaming furnishes this Egyptian-themed, 6-reel slot via the NextGen Gaming platform, featuring reels that can individually produce three (3) up to seven (7) icons as spin outcomes. The diverse number of icons in each reel, has the potential to produce as many as 42 symbols (7 images x 6 reels) that can create as many as 117, 649 Megaways to win.
A spin may return with some reels having a greater number of icons than the rest; making it possible for consecutively appearing identical symbols coming from the leftmost reel to find multiple matches. Big Wins are bound to happen if several same-symbol groupings and/or higher paying win-combinations occur after a spin. Even bigger wins can happen if any ways-to-win is completed with Wild Symbols.
[/CBC]

Queen of Riches Wild Symbol and Wild Win-Multipliers
Although this online slot has no Free-Spins Bonus Game to offer, the random emergence of Full Reel images of the Queen of Riches could prove to be advantageous. The icon that poses as Wild Symbol is the Cleopatra-like Egyptian Queen presented in full body image. Occurring in Reels 2 through Reel 6, a partially viewable Queen of Riches Wild Reel is still usable as eligible icon-replacement.
That is because a single Full Reel Queen of Riches icon is equivalent to as many as seven (7) Wild Symbols. Moreover, each part can multiply Wild-completed winnings in fold. A Full-Reel Wild is configured with a win-multiplier. Symbols completed as winning combo, or expanded as top-paying combination by Wild icon/s will earn rewards at 2x and up to 7x the payout value of the winning symbol.
Queen of Riches Online Slot "Reel Clone Feature"
A Full-Reel, 7-tile Wild icon with Win-Multiplier and completing matched-symbol grouping/s, undoubtedly produces a rewarding outcome. In this online slot, a spin may produce more than one Full-Reel Queen of Riches Wilds. Slot players can look forward to such an outcome because this game is also configured with a "Reel Clone Feature."
The Reel Clone Feature randomly produces two (2), up to six (6) Full-Reel Wilds simultaneously as outcome of a single spin. Since every Full-Reel Wild comes with a win-value multiplier, the factors will likewise multiply if more than one Wild Symbol helped complete a win.
Let us say that two (2) Wild Reels are in place, both reels with a 3x win-multiplier . Each one of the 7 symbols constituting a Full Reel Wild therefore has a 3x multiplier. If any two (2) of those 3x Wilds helped complete a winning combo, the multiplier that will apply to the win amount will be 9x (3x . 3x)
Queen of Riches Online Slot Betting Options
Megaways totaling 117, 649 in all, are available as possible win-combinations that can be formed by consecutively appearing identical symbols, after each spin. In order to activate the reels and launch a spin, slot players must choose an amount to stake as bet on each spin. The betting options range from as low as 0.20 to 40.00 per spin, covering all Megaways to win.