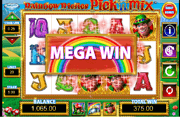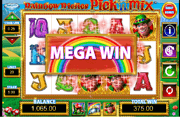 Rainbow Riches Pick and Mix Online Slot; Lets Players Select a Mix of Bonus Game Features
Rainbow Riches Pick and Mix edition is akin to playing Barcrest's different Rainbow Riches slot titles. Delivered to online casinos by SG Interactive, the game commences with a Bonus Game selection. Rainbow Riches (RR) players will be asked to Pick at least one (1), or a Mix of up to three (3) Bonus Games to activate during the play session.
Each bonus feature is as good as the other since all games are guaranteed to bring bonus rewards. Still, a Reset Button, appearing at the top of the slot screen, enables Rainbow Riches players to Pick and Mix a new set of Bonus Game features.


The Bonus Game emblems of the features selected serve as trigger symbols. The standard combination of three (3) Special Symbols activates a Bonus Game. Yet landing on four (4) qualifies a player to enter a higher-paying version of the bonus feature.
This Rainbow Riches edition is playable in the Big Bet Mode; giving players greater chances of activating or playing the Bonus Game outright.
Rainbow Riches Pick and Mix Bonus Games
Players may choose to select at least one or up to three (3) of the following Bonus Games:
The Road to Riches is a game of aiming to reach the highest Multipliers with the help of a spin wheel. The goal is to advance to the highest Multiplier, possibly up to x200. However, if the spin wheel lands on a Collect prompt, the bonus game will end. The last multiplier landed on during the game, will then apply to the Total Bet staked on the triggering spin.
Rainbow Riches Pick and Mix players qualified to play the Super Road to Riches Bonus Game, will land on factors ranging from x7 up to x500.
Pots of Gold (POG) awards random value multipliers presented via spinning images of Gold, Silver and Bronze Pots of Gold. An arrow determines the Winning Pot once the spinning motion comes to a stop. The factor of that pot determines the number of times by which the Total Bet will be multiplied.
The Super Pots of Gold activated by 4 POG logos are filled with Gold and Silver Pots; denoting that only higher numbers of multipliers are in play.
Rainbow Riches Pick and Mix Free-Spins -are activated when Leprechaun icons appear simultaneously in Reels 1, 3 and 5. However, the Leprechaun totem may emerge in Reel 1 as Stacked Symbols, either wholly or partially. That being the case, more than three (3) Leprechaun icons may activate the round. The number of spins awarded depends on the number of Leprechaun symbols activating the round; to which 3, 4, or 5 icons award 10, 20, 30 bonus spins accordingly.
This Rainbow Riches Pick and Mix bonus game may be retriggered. Yet if after a free turn at least one (1) Leprechaun icon comes into view, bonus game players will receive an additional bonus spin.
Cash Crop bonus game is played via a set of reels containing 50 coins. Starting at 1x, 2x and up to 3x Multiplier, the factor in play runs through the reels until prompted to stop via a large spinning Gold Coin. The Gold Coin will either reveal a Go On or Collect prompt All bonus wins will be loaded in the Win Meter, while the related Multipliers disappear. The game ends if all multipliers have been won or if a factor lands on an empty space.
The Super Cash Crop version features a second level to which bonus game players may advance, and possibly win greater rewards via higher numbers of multiplier factors.
The Magic Toadstool is a Pick and Click Bonus Game of unraveling Mystery Multipliers. Three (3) picks are awarded initially, and every factor unraveled will result to an accumulation of wins. The Bonus Game ends if all multipliers have been won, or if a Collect prompt was unraveled.
The Super Magic Toadstool version includes a Fairy animation that emerges out of a Mushroom to unravel more than one Multiplier. Another special attribute is the Extra Pick Mushroom that adds one (1) more chance of unraveling additional multipliers.