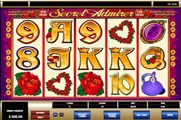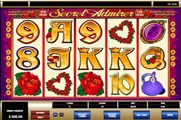 Secret Admirer is definitely not a slot game for those that have a fear of commitment or don't have a romantic bone in their body. This new slot game is full of hearts, flowers and boxes of candy sent to you as the player by your secret admirer. We can only guess who that person is, but I have a feeling it's a jackpot waiting to happen. They've chosen only the best symbols for this game, and it is iconic of any secret admirer you've encountered or seen in the movies. This game is nothing short of elegant. All of the golds, reds and purples used in the color scheme scream extravagance, and you will feel richer just by playing, even if you don't immediately win the jackpot. This Microgaming game is highly rewarding as it has a lot of winning chances for players to take advantage of throughout the game play. These winning chances comes in the form of the line payouts that give players great prizes when they succeed in matching symbols ob the paylines, or with the help of the wild,s scatters and bonuses that the video slot machine has for its players.

While this game only has nine paylines, there is still a very good chance of hitting some kind of win, especially with all of the added little bonuses. It's a really fun game to play, and even easier to win on this five reel slot.
Diamonds are a girl's best friend, and in this form, they're also a scatter symbol. If you hit one or more of these you are guaranteed to win some amount, and if they're paired with a masquerade mask wild symbol, you'll find yourself showered with more candy and roses than you ever thought possible. With five reels available, and one mask per reel, you even have the opportunity to win the jackpot of 50,000 coins each spin you make. For more details about the jackpot, the special icons and even the regular payouts, players can open the paytable of the game at any time during the game. They can do that by clicking on the View payout button.
In conclusion, this game right here, Secret Admirer, is one of the most romantic games that Microgaming has released. The game is ultra rewarding, and offers many special features and bonuses for players, as well as a great set of generous line payouts.