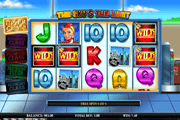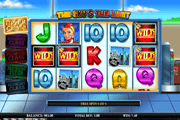 Sky's the Limit : 5 Random Bonus Features, Upgrade Free-Spins and Prize Wheel with Multipliers
Sky's the Limit is a 20-payline online slot originally created by Core Gaming for the OpenBet Gaming Network. Now available at online casinos supported by the NYX/NextGen Open Gaming System, this real-money betting entertainment illustrates airport scenery through its reel elements, bonus features, and betting options. Betting options are based on players' travel class preference; Economy, Frequent Flyer, Premium or Business Class. Naturally, the Economy Class is for those who prefer to play the game with the least risk; wagers per spin covering all win lines is only 0.20, or an equivalent of 0.01 per line.
Business Class, on the other hand, gives players a wider range of betting options; from as low as 0.10 per line or 2.00 per spin, to as high as 25 per line or up to a Max Bet of 500.00 per spin. Betting Business Class has its advantages, some of which can be experienced via the random Bonus Features and the Upgrade Free-Spins. At least two random Bonus Features award cash prizes based on current Bet, while a Business Class Upgrade Feature awards a round of cost-free Upper Class Free-Spins with Locking Wilds.


Sky's the Limit Online Slot: Random Bonus Features
Take notice of the moving Baggage Conveyor in the background. At any time after spin, the conveyor will stop to present three (3) Luggage icons for players to pick as random bonus reward. The selected Luggage icon will award any of the following bonus features:
Mile High Club – Launches a respin that will generate a win with a guaranteed payout equivalent to 10x the amount wagered.
Mega Win – Also launches a spin that will produce a win outcome that will bring rewards in mega proportion; equivalent to 50x the bet staked.
5-of-a-Kind – Awards a respin that is guaranteed to produce a 5-of-a-kind winning combination.
Combi – Also awards a respin that is guaranteed to return with at least four (4) bet line wins.
In a Spin – Gives players immediate access to the Prize Wheel that awards an instant bonus win with a corollary win-multiplier.
Sky's the Limit Online Slot: Bonus Wheel Feature
Called "In a Spin" Bonus, this segment can be activated by any one of 2 ways: by landing on 3 or more In-a-Spin Bonus icons anywhere across the reels, or as a randomly selected Suitcase Bonus Feature. The cash prize awarded by this bonus feature could further increase, based on the Mystery Multiplier on which the wheel lands.
The number of Mystery Multipliers available as potential reward depends on the number of In a Spin icons that activated the wheel. Three, four, or five In a Spins totems correspondingly bring 1, 2, or 3 Mystery Multipliers to the Prize Wheel.
Sky's the Limit Online Slot: Status Upgrade Free-Spins Feature
A Free-Spin Upgrade icon may emerge in Reel 5. Once it comes into view, a free-spin will be awarded while a qualifying player's Flight Status will be upgraded; but only for that particular bonus spin. Still, if the next Upgrade Free-Spin/s continues to generate another Free-Spin Upgrade icon in Reel 5, all resulting payline and bonus wins will be appraised on the current upgraded bet.
Business Class bets, however, trigger a different Sky's the Limit Upgrade Free-Spins Feature. At no extra cost at all, player's Bet level upgrades to the Upper Class status. Instead of receiving a single Bonus Spin, a qualifying Business Class player receives five (5) Free-Spins, played on reels in which all emerging Wilds lock in place.