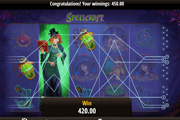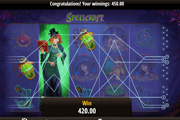 Spellcraft Online Slot: Free-Spins w/ Ghost Reel and Bonus Game with Guaranteed Wins!
Spellcraft online slot by Playson features three crafty witches who cast spell on the reels in order to boost players' chances of hitting awesome wins. Reels display Spell Books, Black Cats, Boiling Cauldron, Voodoo Dolls, Potions, and other objects witches use for conjuring. Rewards for landing on consecutively appearing one-of-a-kind symbols in any of 27 paylines are notable; multiples of bet staked per line in sizable numbers. The Spell Book for one, which is the highest paying regular symbol, awards 60, 200, 400, or up to 600 coin credits on 3, 4, 5, or 6 matched winning symbols.
Each enchantress has a special reel-enhancing power to make this game a lucrative recreational gambling venture. The Green Witch represents the Wild Symbol. Her wild substitution power is further enhanced when combining with the Blue and Purple Witches. The Purple Witch orchestrates a Bonus Game in which her spellcraft is guaranteed to yield Bonus Wins. The Blue Witch seems to be the most potent as she summons a Ghost Reel that produces additional symbols during the Free-Spins Bonus Round.


Spellcraft Online Slot: Wild Symbol
The Green Witch Wild appears only in Reels 2, 3, and/or 4 during base game plays. When her image/s are aligned with regular-paying one-of-a-kind images in a payline, this conjurer can complete or expand a winning combination. In the Free Games, the Green Witch Wild changes reel coverage; her images will be taking up positions in the four (4) rightmost reels.
The Power of Three Feature Behold the full power of this icon when it lands across the board in combination with the two other Spellcraft Witches. When all three witches, the Green (Wild), the Blue (Scatter) and the Bonus (Scatter) icons are in view as part of a single outcome, the Green Witch Wild expands. The full reel Wild image technically produces additional Wilds that can complete or expand payline groupings.
Spellcraft Online Slot: Felicitous Potion Bonus Game
The Purple Witch beckons players to join her in concocting her Felicitous Potion in a round of Bonus Game. Just by landing on three or more of her Bonus image in any spot across the reels, already qualify players to receive guaranteed Bonus Wins of 2x, 5x, or 10x the current Total Bet, accordingly. The rewards are sure to increase during the round, by simply clicking on any of 5 Mystery Icons in four different stages.
The primary goal is to unravel Ingredients needed by the Purple Witch to concoct her Felicitous Potion. The Bonus Game ends if all ingredients have been revealed and added, or after all four sets of Mystery Objects have been played. Completing the Felicitous Potion garners the top bonus game prize of 30x the Total Bet. This reward is in addition to all bonus wins previously collected.
Players are presented with 4 independent sets of Mystery Objects. Clicking on one in every stage may reveal any of the following:
• A Felicitous Potion ingredient; such as a Spider, a Chicken Foot, or a Mushroom;
• A Coin that represents a surefire bonus win, in an amount equivalent to 2x, 3x, or 4x the current Total Bet.
• An Eye symbolizing Disclosure or exposure of all Mystery Prizes; denoting that all Mystery Prizes will be awarded in that particular stage.
Spellcraft Online Slot: Free Games
The Blue Witch is the Mistress of the Spellcraft Free Games. Three, four, or five of her Scatter icon will bring on 9, 12, or 15 free-spins, respectively. Here, a Ghost Reel appears as extension of the 5-column configuration, albeit dimly visible in the leftmost side of the slot screen. A winning pay line arrangement may now start from the Ghost Reel or from the regular Reel 1 column.
The Blue Witch oversees the round of free games by continuing to emerge as winning Scatter combinations, therefore giving players opportunities of retriggering a new set of bonus spins.