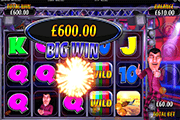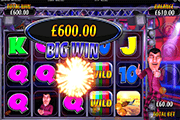 Spinner Takes All Online Slot : Spin the Wheel to Win Fabulous Cash or Free-Spins Prizes!
Spinner Takes All is OpenBet's online slot edition of a popular 30-payline slot machine game loosely based on the 80's Winner Takes All Game Show. An affable-looking TV Host named Buzz Goodwin presides over the reel and wheel spinning segments, whilst also appearing as the highest paying icon. Fabulous game show prizes, such as an Airplane, a Speedboat, and a Car are regular reel elements with medium-range Paytable Values. Payline cash rewards are of course dependent on the number of matched symbols and the amount staked as Bet per Line.
Another way of hitting cash prizes is via the Prize Wheel icon. An assortment of Total Bet Multipliers, ranging from x6 to x1000 bring surefire wins if hit with a single spin of the Bonus Wheel. If a player's spin lands on a Bonus Game, he or she gets a chance to vie for higher prize values. Unlike in the real TV game show, in which players have to match wits against each other in order to win all, here, the Prize Wheel spinner takes all Bonus Prizes won.

Spinner Takes All Online Slot: Win=Boosting Feature
To help players collect as many payline wins as possible during base game spins, the reels randomly produce a Wild Symbol or even a Stack of Wilds. Occasionally, Buzz Goodwin may even Nudge the last two (2) reels in order to expand a payline win into a higher-paying combination.
TV Screen Wild Symbol – Although this element is a non-paying icon, a single-cell Wild Symbol or Stacked Wilds may land and combine with identical images. The wild cards usually emerge in Reels 3, 4, and 5, which all the more boost chances of completing a winning arrangement via Wild representation.
Buzz Goodwin's Nudge Feature – At some point after a spin, Buzz Goodwin may have a mind to nudge Reels 4 and 5. He does that if he feels that a winning 3-symbol combination will expand into a higher-paying, 4 or 5-of-a-kind winning arrangement. On other occasions when Reels 1 and 3 return with a Prize Wheel icon, the game show host pulls down Reel 5. Such instances always result to the completion of the 3-Prize Wheel combination that activates the bonus feature.
Spinner Takes All Online Slot: Prize Wheel
The Prize Wheel image usually appears in Reels 1, 3, and 5. When all three (3) reels altogether display a Prize Wheel after a paid spin, the promise of awesome instant cash prizes becomes a certainty. A single spin of the Prize Wheel is bound to award any of the following:
Total Bet Multiplier Values – Comprise factors in between x6 at the least, and up to x1000 at the most. The factor landed on multiplies the Total Bet at stake as instant cash prize.
Box Bonus – This is a Pick Bonus Game in which players simply select and click on any gift boxes to reveal a cash reward. Qualifying Spinner Takes All players can amass as many prizes as possible before they get to reveal a Checkbook and Pen image. The latter signals the awarding of all cash bonuses revealed, whilst ending the bonus segment. Still, the game may progress to the next level, which awards Buzz Goodwin's Star Prize.
Those advancing to this level stand a chance to take home a much bigger reward if they succeed in unraveling three (3) Star Symbols.
Prize Bonus Board is also a Pick Game. The cash prize awarded depends on the first three (3) symbols to match as outcomes of Pick selections.
Bonus Prize Spins is a round of five (5) bet-free spins. The bonus spins will be played on a game board in which Reel 3 has a full display of Stacked Wilds. The Wild Reel will be available as substitute icons throughout the round, likely boosting chances of hitting multiple winning combinations.