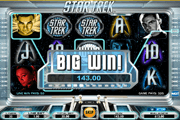 Star Trek: A 30-Payline IGT Video Slot Loaded with Four Amazing Bonus Games
Star Trek by IGT is a five-reel online video slot with 30-fixed paylines. This IGT version uses images of Captain Kirk, Mr. Spock, Uhura and Scotty, lifted from the 2013 Star Trek movie remake. Aside from representing the game's High Paying Symbols, the Star Trek characters have special Bonus Symbols that activate varying and rewards-filled, free-spins bonus games.
The Star Trek Logo Wild Symbol
The Star Trek Logo is the Wild Symbol that poses as alternative icon to a regular symbol, as means to complete a payline win. The Logo Wild materializes on reels two (2), three (3), four (4) and five (5) only. Unlike other slot Wilds, the Star Trek Wild cannot form its own payline combination. Still, they tend to appear in multiples as outcomes of paid spins, which could potentially create big and numerous payline wins.
The Star Trek Bonus Game Symbol
This IGT version of the Star Trek slot also has a Bonus Game icon that awards Scatter Pays both in the base game and in all Bonus Games. Three (3) Bonus Symbols appearing in any position and in arrangement across the rows and columns, grant Scatter Pays of 3x the total bets placed on the trigger-spin.
Yet the Bonus Game icon has greater significance whenever two (2) of such symbols combine with a special Kirk, Spock, Uhura or Scotty icon. Each type of Bonus and Star Trek Character combo sets off a particular Bonus Game Free-Spins round. All Bonus Games are capable of awarding up to a maximum of 250 bet-free spins in a single round.
The Kirk Bonus Game
Two Bonus Game and One (1) Kirk Bonus Game icons activate three (3) spins at the least, and up to six (6) at the most. Each payline win produced by the Kirk bet-free spins, awards 3x the payout value of the winning symbol.
This particular free game has a unique Kirk-Spock icon that emerges on reels two, (2), three (3), four (4) and five (5). In addition to the regular Star Trek Logo Wild, the unique symbol is an exclusive Kirk Bonus Game Wild that can pose as substitute for a regular Kirk or Spock icon.
The Spock Bonus Game
This distinctive free game kicks in whenever two Bonus Game icons appear simultaneously with the special Spock Bonus symbol. The number of free spins available to Spock Bonus Game players range from ten (10) up to sixteen (16) bet-free spins. Here, the equivalent payout for Kirk symbol combinations are doubled, paying 100, 600, and 2,000 for three-, four-, or five-of-a-kind Kirk regular icons, respectively.
Another unique pay-boosting feature of this Bonus Round is the special Wild functionality of the Spock symbol. As the Spock Bonus Game Wild, the Vulcan character's icon appears only in reels two (2), three (3), four (4), and five (5).
The Uhura Bonus Game
Two (2) Bonus Game Symbols and one (1) Uhura Bonus icon combination awards a set of six (6) up to twelve (12) free spins. During the Uhura bet-free spins, the reels are configured to generate extraordinary number of Bonus Game symbols. That way, bonus players have increased chances of earning Scatter Pays more frequently.
The Scotty Bonus Game
Two Scotty Bonus and one Bonus Game icons offer free spins with corresponding multipliers ranging from 2x up to 5x. Starting with ten (10) bet-free games at the least, the Scotty Bonus Game doubles the related multiplier after the first five (5) free spins.
Star Trek Online Slot, Kudos to IGT for an Excellent Version of a Star Trek Slot!
Star Trek Online Slot: IGT succeeds in creating a Star Trek-themed slot that stands out from other slots with a similar title and motif. The four bonus games are excellent extra pay-boosting features that truly gratify.