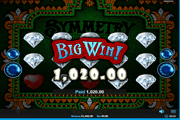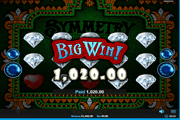 Symmetry Online Slot : Game Pays on 3 or More Symbols Landing on Any Payline Position!
Symmetry is a 10-payline online slot by Realistic Gaming to which hitting wins on matched symbols is a breeze. First off, all symbols are configured as stacks of 3-tier icons in every reel. Secondly, a succession of three, four, or five identical images are evaluated as wins, for as long as they are within the confines of a payline.
The symmetry theme is depicted via a Bonus Respin that randomly selects a symbol to display in multiples across different pay lines. This denotes bonus game players can expect to land on multiple winning combinations as well. Yet a greater, more rewarding event could take place, if the reels return with a display of identical images arranged in a specific symmetrical pattern. Such an occurrence triggers the awarding of the Symmetry Bonus.


Crisp and vivid images of elements evocative of old-style Vegas slot machines, award notable returns, whenever one-of-a-kind images land consecutively along payline positions. The Jackpot icon generates the highest pays, awarding 50x, 100x, or 250x the Bet wagered on the winning line. The number 7 produces good returns as well, as it correspondingly pays 30x, 60x, or 150x the Line Bet. The Gold Bars and Wads of Cash images are not too far behind; matched groupings of both icons garner pays equivalent to 20x, 40x, or 100x the Line Bet.
Consider the flexibility of the icon-matching rules, the general Stacked Symbols structure, and the Bonus Rewards. Staking Max Bets may prove to be the most lucrative approach to playing this Symmetry slot game.
Symmetry Online Slot: Bonus Re-spin
The Bonus Re-spin feature activates if all five (5) reels display a full stack of identical images. The feature does not require the Stacked Symbols to match each other, for as long as each column displays 3 layers of identical symbols.
Once activated, the reels will spin sideways as means of randomly selecting a symbol that will be loaded in heaps in all reels. After which, the column displaying the selected symbol locks in place, while the rest of the reels launch a Bonus Re-spin. The likelihood of striking massive wins are great, as the game promises that 1, 2, or 3 of the spinning reels will return with stacks of the selected symbol, either in part or in whole.
If the stacked icons triggering the Bonus Re-spin conform to a given Symmetry Pattern, a slot screen, full of identical images will be presented as basis for Bonus Reward.
Symmetry Online Slot: Symmetry Pattern and Bonus
In this game, a Symmetry Pattern is one in which Reels 1, 3, and 5 display the same set of Stacked Images. The Stacked Symbols in Reels 2 and 4 must also be identical; but without need to match the one-of-a-kind symbols displayed by Reels 1, 3 and 5.
If a Symmetry Pattern triggers the Bonus Re-Spin, what follows is simply a matter of selecting a symbol. The Symmetry Game Info states that a full house of stacked icons will be awarded immediately.