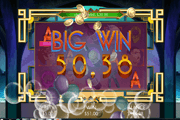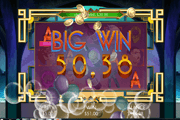 The Great Cashby Online Slot – A Low Risk, Real-Money Betting Recreation
The Great Cashby online slot by Genesis Gaming offers light and easy real money betting entertainment. Best described as a low risk game of chance, this online slot offers bets per spin options ranging from 0.25 to 5.00, covering all 25 paylines.
This Roaring 20's-inspired online casino entertainment offers a Wine Bottle Wild Symbol as win-booster, and a Back Room Bar Bonus Game with a different kind of free-spins play.
[/CBC]

Images of party-loving people similar to those depicted in F. Scott Fitzgerald's novel The Great Gatsby, pose as high paying reel icons. The Great Cashby lead character is the male icon with pink bowtie; awarding 10 up to 2,000 coins for every 2 or more of such icons landing in any payline. The other three (3) Cashby party-lovers, two women and another man, award uniform coin prizes of 5, up to 500 for every 2 or more same-symbol combinations in a payline.
The Great Cashby Wild Symbol
This online slot carries on with the Gatsby party theme through a Wine Bottle icon marked as Wild. After a paid spin, the Wine Bottle Wild may appear in whole, or in part as Stacked Symbols. As such, it can complete a grouping of identical symbols landing in a payline to form winning combinations of three-, four- or five-of-a-kind symbols, including the low paying A, K, Q, J, 10 and 9.
The Great Cashby Bonus Game Scatter Symbol
The bonus game trigger-symbol is The Great Scatter signage. As a Scatter Symbol, it may emerge on any row or column. When appearing simultaneously as reel outcomes of Reels 1, 3, and 5, the occurrence triggers the activation of the Back Room Bar Bonus Game.
The Great Cashby Back Room Bar Bonus Game
This special round takes players to a depiction of a back room wine bar. Using ten bet-free spins, bonus game players will play with a single line 3-reel configuration and cocktail drinks reel-icons that represent each of the five (5) game levels.
In playing the bonus game, a slot player's objective is to land on a type of cocktail drink that would complete every game level. A player advances to the next stage only if the required symbols of a preceding Game Level have been collected. Each collection requires three-of-a-kind cocktail drinks, as shown in the Game Level indicator below the Bar.
Once a level has been completed, a bonus player will earn rewards based on the Total Bet staked on the spin that triggered the bonus game, to be multiplied by the Game Level Multiplier Factor. The Great Cashby Bonus Game Multiplier Factors are 2x, 4x, 12x, 24x and 48x, awarded accordingly from Level 1 up to Level 5.
Bonus Game players who completed Game Level 2 but ran out of bet-free spins to use in order to complete other game levels, stand to receive a consolation Prize of 1x the Total Bet as additional bonus reward.