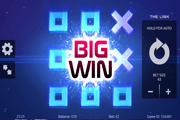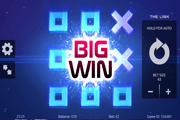 The Link : 3-Reel Video Slot that Awards Bet Multipliers Based on Number of Line Wins
The Link is a 3-reel video slot by ICE 2016 Best Start Up winner Gamevy, deployed to online casinos via the NextGen/NYX Gaming platform. The game is configured with 8 straightforward paylines that simply follow the horizontal, vertical, and diagonal patterns of three rows and three columns of geometric symbols. The game makes a difference though by awarding pays based on the number of payline wins.
The Diamond icon for one, awards a win credit of 2x the Bet on a single payline win. A 1.00 Bet therefore earns 2.00 on a single Diamond win. If a spin outcome produced more than one Diamond payline win, the reward will be based on the corresponding Bet Multiplier indicated in the paytable. The Diamond, being the highest-paying symbol, awards as much as 5000x the Bet if the symbol appears on all 8 paylines.
In this game, the available choices of wagers to place as Bet per spin range from 1.00 to 25.00.


Set against a black backdrop that simulates a starry night sky, colorful geometric motifs such as Diamond-, Square-, Triangle-, Circle- and Cross-shaped icons turn, and possibly return after a spin as 3-of-a-kind symbols in any payline. The presentation is simple but possessing easy-on-the-eyes appeal. The lack of frills and toned-down colors, permit The Link slot players to recognize wins easily.
The great news is that a Wild Symbol emerges occasionally; boosting chances of hitting 3-of-a-kind matches whenever a Star Wild Symbol is in place.
The Link Online Slot: Star Wild Symbol
The Yellow Star is a Wild Symbol appearing in any position. A Star Wild settling in a vertical, horizontal, or diagonal pay pattern in which identical symbols are positioned, can easily complete a win or create multiple wins, by posing as alternative icon. In this game, Wild substitution action is carried out by changing the color of the winning geometric symbols to Yellow.
An even better outcome is one in which three (3) Star Wild Symbols land on a pay line to form its own winning combo. A Wild-win event awards 2x the Bet staked on the winning spin. Eight Star Wild payline wins will fill up the entire set of reels, and will award as much as 5000x the Bet staked on the winning spin.
The Link Online Slot: Interruption/Malfunction Game Rules
Similar to other slot game Malfunction Rules, Gamevy/NextGen and the operator of this online slot reserve the right to void all wagers if the game malfunctions; or if any fraud was found to have been committed in playing The Link video slot.
However, the game follows a different rule for playing sessions disrupted because of Internet disconnection, player's personal time constraint, or device issues (e.g. low battery). In such cases, any winnings gained from an interrupted session will be credited to the account of affected players. That way, they can simply start anew once their respective issues have been resolved.