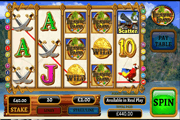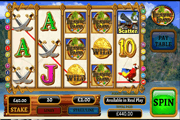 Treasure Island OpenBet Slot: Two Bonus Games and a Progressive Jackpot
Treasure Island OpenBet online slot is a popular slot machine content now available to play at online casinos supported by the NYX/NextGen Open Gaming System. Containing 20 win lines that can be activated in accordance with their configuration in the Treasure Island OpenBet slot board.
Activating all may prove to be the best option, as the game features two Bonus Events that award Total Bet multipliers as rewards. Still, players can increase or decrease Total Bets per spin by selecting a coin value, anywhere between 0.01 and 20.00. Moreover, a Wild symbol takes position in any spot and/or pay line to render substitution actions; heightening possibilities of hitting payline wins.
Topping all prizes at stake is the Progressive Jackpot exclusive to Treasure Island OpenBet slot
players. This may be won by landing on five (5) Pirate icons as simultaneous outcomes of a single spin.

Treasure Island OpenBet Online Slot: Wild Symbol
A battered Gold Coin image represents the Wild Symbol. A Wild or Wilds aligning with any one-of-a-kind regular Treasure Island elements in the same payline, may complete or lengthen a grouping. The reward of a Wild-completed win is based on the payout of the winning symbol, and on the highest combination occurring from the leftmost position of a payline.
The Gold Coin Wild can also form a winning combination comprising three, four, or five lining up in a payline starting from the leftmost reel. In fact, the Gold Coin, like the Treasure Island Game Logo, awards the greatest line bet multiplier of 100x, 300x, or 500x, based on the respective number of Gold Coin or Treasure Island Logo comprising a payline win.
Treasure Island OpenBet Online Slot: Treasure Chest Bonus Game
This bonus feature activates whenever three or more Treasure Chest Scatter icons are concurrently in position across the slot board.
A game panel presents three Treasure Chests, each containing a Mystery Multiplier. Treasure Chest bonus game players simply need to pick and click on one of the images to reveal a Multiplier, which may be anywhere between 12x and 400x. The Bonus Reward will be equivalent to the Total Bet times the Multiplier factor revealed.
Treasure Island OpenBet Online Slot: Cannon Bonus Game
Three or more Cannon images marked as Scatter initiate the loading of the Cannon Bonus Game panel. Here, a bird's-eye view of the Treasure Island poses as playing field, displaying a winding trail toward the main Treasure Chest. Each spot along the trail contains a Mystery Multiplier ranging from 1x to 500x.
Players simply click on the FIRE button to launch a cannon ball that will unravel a Multiplier in a certain spot. The equivalent bonus reward (Total Bet x Multiplier Factor) will be then be credited outright. Every cannon ball fired determines the number of positions by which players advance, in order to reveal the next Multiplier.
However, if a spot reveals a COLLECT prompt instead of a Multiplier, the Cannon Bonus ends.