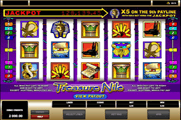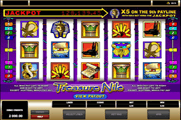 Treasure Nile is a progressive video slot machine that is known for giving players handsome rewards. For those who do not know what a progressive jackpot is, it is a jackpot that increases whenever any online player places a bet on this game on any of the casinos that are connected to the progressive network of the same gaming developer. In this case, it will be connected to the MPN (Microgaming Poker Network). This is why the jackpot of this game can be seen increasing every single second.
The game has a simple setup of 5 reels and 9 winning lines for players to place their desired bets. The betting options are found under the reels. Of course, since the game is powered by such a big name in the industry, players are promised a captivating and an exciting gaming experience that is well presented in amazing visuals and outstanding sound effects. Players can also expect to be paid handsomely, like any other Microgaming game.

The game is themed around the Land of the Nile, the Land of the Pharaohs, Ancient Egypt. It will take players back in time to the Ancient Egyptian time era when Rich Pharaoh kings used to rule over the lands of the Nile. Players will go there in order to search for the hidden treasures underneath the Nile and in the tombs of these Pharaohs as it was discovered that they buried with their golden treasures and fortunes.
The symbols that appear on the reels include an Ankh, a golden Pharaoh mask, an ancient Egyptian ship, pyramids, an ancient Egyptian scroll, a golden cobra, paper and other statues that are inspired by the Ancient Egyptian civilization.
The game's progressive jackpot is triggered by the Golden Pharaoh's mask symbol. In order for players to claim the jackpot, they will have to get 5 of these symbols on the 9th payline of the game after placing the maximum bet. This is why, like any other progressive slot, players are always advised to place the maximum bet so they can have a chance of triggering the jackpot of the game.
The Golden Scarab is the scatter symbol of the game. This means that whenever a minimum of 3 golden scarabs appear scattered on the reels, players will claim a payout, regardless of the position of the scatters on the paylines. The biggest payout is equal 50, which is then multiplied by the stake that players have placed.
The wild symbol is the pyramids symbol. This symbol can replace any of the other symbols, excluding the scatter symbol, in order to help players form a winning combo to be eligible for a payout. It also cannot replace the Golden Pharaoh mask and trigger the progressive jackpot, it can only replace it to form regular line payouts.