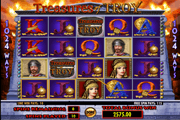 Treasures of Troy :The Online Slot Edition of a Globally Popular Land-Based Slot Machine Content
Treasures of Troy is the online version of the epic slot machine content known in land-based casinos the world over for its magnanimous pay-boosting features. Carrying the Trojan War as reel theme, IGT launched a thousand and twenty-four (1,024) MultiWay™ awards in addition to the 40 paylines of the 4-row by 5-column reel configuration.
Helen of Troy, the legendary Queen with a "face that launched a thousand ships," aptly represents the top prize. It is the highest paying among the game's high symbols. The pay values are of great importance whenever identical symbols appear as outcomes of a spin. Multiple wins in considerable payout values for both the MultiWay™ award and for the payline combinations are taken into account.
About IGT's MultiWay™ Awards
The 1,024 MultiWay™ Pays can be activated by staking bets on at least 40 paylines. This unique payout scheme awards coin prizes for any four (4) or five (5) identical symbols landing consecutively in any row of adjacent columns. Denoting that if a symbol in a column has more than one set of identical matches in the next three (3) columns, the game awards all multiple combinations formed by those matched symbols. In addition, if the same symbol formed payline patterns as matched combinations, the Treasure of Troy slot also pays the equivalent coin rewards per payline.
Using the highest paying Helen of Troy icon as example, this symbol pays 100 or 500 coins, respectively for four (4) or five (5) consecutively appearing Helen of Troy images. The Treasures of Troy slot considers if there are other Helen of Troy icons appearing in the other adjacent reels. It is possible to have more than one set of MultiWay™ Helen of Troy combos. If such is the case, then there will be additional 100 or 500 coin rewards.
Now if three (3), four (4) or five (5) of those identical Helen of Troy icons also formed completed payline patterns, then additional coin rewards of 125, 800, or 5,000, respectively. The Helen of Troy payline wins will be added to the total winnings achieved with a single paid spin.
Those special pay features apply even if Wild Symbols posed as stand-ins for regular symbols forming the MultiWay™ and payline wins. Wild substitution actions exclude the The Treasures of Troy Logo, because the emblem is a Bonus Game activator. As a Wild Symbol, it appears only in reels two (2), three (3), four (4) and five (5).
The MultiWay™ and payline payout schemes also apply in the Treasures of Troy Free Spins Bonus Game.
The Treasures of Troy Free-Spins Bonus Game
The Trojan Horse icon represents the game's Bonus Game symbol. Two (2), three (3), or four (4) of such symbols award ten (10), fifteen (15) or twenty (20) bet-free spins. If another set of Trojan Horse icons appear as reel outcomes during the Bonus game, then another set of free spins will be activated, accordingly. Actually, up to 130 free spins could be activated in a single round of Treasures of Troy Bonus Game.
IGT game info states that the Treasures of Troy Bonus Game uses a different set of reels, configured with more special pay-boosting combinations, if compared to the base game reels.
Treasures of Troy a Rewards-Filled Slot Game Indeed!
Treasures of Troy is definitely a must-play game, as IGT's 1,024 MultiWay™ pay scheme truly brings astounding rewards in addition to potential payline wins!