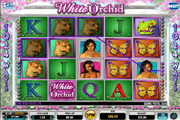 White Orchid – IGT Video Slot with the 1,024 MultiWay™ Pay + 40 Payline Win Features
White Orchid online video slot is a nature-inspired slot entertainment presented in four (4) rows and five (5) reels. This IGT online video slot offers 1,024 MultiWay™ potential wins playable in combination with 40 payline win-patterns.
The game though, requires placing at least 80 coins per spin in order to activate the 1,024 ways-to-win MultiWay™ feature. Yet a White Orchid player has the option to play with or without that feature. After all, the slot's minimum coin value is set at of 1.00, which equates to a minimum total bet of 80.00 per spin. If a recreational gambler finds the MultiWay™ bet requirement as too steep for comfort, he or she can opt to play for a simple 40-payline game.
About the White Orchid MultiWay™ Pay Scheme
IGT's MultiWay™ feature is an optional offering of additional 1,024 icon combinations with equivalent pays. Four (4) or five (5) identical symbols appearing in any row and located in adjacent reels make up a win. The game pays for all four (4) or five (5)-of-a-kind combos, whether big or small. In addition, and in order to optimise a player's chances of winning for every paid spin, a set of forty (40) payline patterns is also available as additional win possibilities.
To illustrate, and using the highest paying Female Islander icon as example, landing on four (4) or five (5) of those symbols on consecutive reels has an equivalent reward of 100 or 500 coins, respectively. If there are other Female Islander icons in other rows, those icons are also eligible as matches. Denoting therefore that multiple 500 coin rewards could be received from just a single paid spin. Add to those wins the equivalent coin rewards of 125, 800, and 5,000, if three (3), four 4) or five (5) of the Female Islander icons completed payline patterns.
However, since this is a game of chance, there is no guarantee that every paid spin generates even a single ways-to-win or payline win; more so both types of win, as spin outcomes.
The White Orchid Logo serves as the Wild Symbol that can be used as substitute to complete the required four (4) or five (5) pay-way symbols, or the payline patterns. The White Orchid Logo Wild emerges in any row but only in reels two (2), three (3), four (4) and five (5).
IGT added another important game element, the White Orchid Bonus icon. At least two (2) of such symbols activate the "White Falls Bonus Spins" round.
About the "White Falls Free-Spins" Bonus Game
According to IGT, a new set of reels with greater potential to create pay-way and payline win is in use for the bonus game. The number of free spins available in each "White Falls Bonus Game" depends on the number of White Orchid Bonus symbols that activated the round. Two (2), three (3) or four (4) White Orchid Bonus icons, award a set of ten (10), fifteen (15) or twenty (20) free spins, activated accordingly.
The emergence of another set of White Orchid Bonus symbols during the free game, re-triggers the launch of the corresponding number of bet-free spins. According to game info, the "White Falls Bonus Game" is capable of churning out as many as 130 free spins in a single bonus round.
White Orchid Online Slot Another MultiWay™ IGT Offering
White Orchid online video slot is in many ways similar to the hit Treasures of Troy IGT slot content. Although the features, the payout equivalents, and bonus free spins are basically the same, those attributes do not necessarily mean that the game is capable bringing the same level of financially rewarding experience as the Treasures of Troy slot. Playing the free-play demo game is one good way to find out.