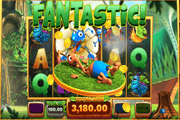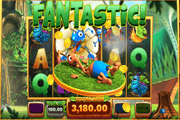 Wild ANTics Online Slot: Ant-Cartoon Game with 4 Special Wild Features and 4 Free-Spins Bonus Games
Wild ANTics online slot by Blueprint Gaming furnishes 20 payline patterns running across 3 rows and 5 reels. Cartoon illustrations of an adventurous Ant named Adam, and other garden critters along with the Wild ANTics game logo line up in any payline as matched-symbol combos. Available at online casinos powered by the NextGen Gaming platform, this real-money betting game may likely prove to be an excellent recreational gambling choice.
At random occasions during or after a spin, four (4) different random Special Wild Features occur to increase the odds of hitting payline wins. Moreover, the base reels are configured with four (4) Bonus Game elements, each one capable of triggering one of four (4) Free-Spins Bonus Features.


The Wild ANTics Game Logo is the highest-paying symbol and may appear as Super Stacked Symbols in any reel. Any two of such icons emerging in a payline awards 2 coin credits; even more, if three (3), four (4) or five (5) Wilds form winning payline combo/s. The WA totem correspondingly awards as many as 40, 100, or 400 coin credits.
Wild ANTics Online Slot: Wild Symbol and Jet Pack Antics Feature
An icon bearing the image of Adam Ant serves as the Wild Symbol. Yet occasionally, an animated Adam Ant comes out of a tree trunk to activate the Jet Pack Antics Feature. This segment is initiated by the presentation of three (3) Adam Ant overlays holding a mystery win-boosting and/or reel-enhancing element.
In some other instances, a group of Flying Ants also makes an arbitrary appearance, either to trigger one of the Jet Pack Antics feature, or to replace some symbols with new one in order to create a surefire payline win.
The Jet Pack Antics revealed may be any of the following:
Wild Antics -This feature transforms a number of symbols into Wild icons to increase the possibility of landing on top-paying, and/or multiple identical symbol-combinations in any payline, once the reels stop spinning.
Aardvark Antics – Here, Adam Ant turns one or more columns into Wild Reels. His Aardvark nemesis though will try to prevent him from doing so.
Frantic Antics -During this feature, symbol-position shifting actions will be carried out frenziedly by Adam's worker ants. The symbol-position changes will continue until the Aardvark makes an appearance, causing the worker ants to scurry frantically, out of the screen.
Colossal Antics – Adam's worker ants will bring out Wild Symbols in varying large sizes, loading each one into the reels during an ongoing spin. Once the reels come to a stop, one or more of the colossal-sized Wild Symbols will appear to help complete matched payline combinations.
Wild ANTics Online Slot: Free-Spins Bonus Games
Five (5) Bonus Games Symbols are in play, the Aardvark, the Worker Ant, the Soldier Ant, the Colonel Ant and the Queen Ant Bonus Symbols. The featured free-spins games are activated when a combination of two (2) Aardvark Bonus Symbols in Reels 1 and 2, plus any one of the other Bonus Symbols occurs in Reel 5 as spin outcomes.
The Worker Ant Free-Spins feature a Roaming Wild Symbol as win-boosting element throughout the bonus round.
The Soldier Ant Free-Spins also feature a Roaming Wild. It will award a Wild-Win Multiplier ranging from x2 up to x5, when two Wild Symbols collide as they roam across the reels.
The Colonel Ant Free-Spins: Bonus Spins are played on a fresh set of reels configured with 40 paylines in 4 rows and 5 columns of icons. In addition to the Roaming Wild attribute, two Wild tiles colliding while roaming, will fuse together to become a Full-Reel Wild.
The Queen Ant Free-Spins: This Wild ANTics free round is likewise played in a 4×5 reel grid with 40 paylines and an oversized Wild Symbol constantly roaming during bonus spins. Moreover, a special Queen Ant Symbol acts Extra Wild. The Queen Ant Wild has potential to enlarge, expand and occupy as many as 12 reel positions (4 tiles in 4 adjacent rows and reels.)