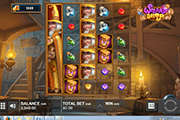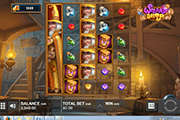 Wizard Shop : Stacked Symbols, Full-Reel Wilds, Free-Spins and Purchasable Bonus Reel Enhancements
Wizard Shop is a 50-payline online slot that Push Gaming configured with stacked icons, special full-reel Wilds, and Free-Spins with purchasable reel enhancements. The Wizard icon in purple color-motif is the highest paying totem. It may appear in part, or in its entirety as a 6-tile high stack of identical images. The great news is that every complete stack of Purple Wizard in view triggers an event that upgrades the symbol into a special Wizard Wild. Such an occurrence may take place during base and bonus plays as the Wild Wizard Feature.
A Bonus Round is definitely a boon, as the segment will more than likely turn this online slot into a rewarding recreational venture. Here, the Wizard Shop opens for business, offering reel enhancements such as Massive Wilds, Scatter Pay Upgrades and Bonus-Win Multipliers. Providing the means by which purchases can be made is the Coin Collection Feature. It enables players to accumulate coins that they can use to purchase reel enhancements of their choice.


Wizard Shop Online Slot: Coin Collection Feature
The collectible coin tokens are mini-overlays affixed to random symbols. Any coin token in view transfers to the coin bank located at the upper left side of the screen. Each coin overlay adds a certain value, albeit depending on the Bet staked per spin. The lowest coin value is one (1), for each token produced by a minimum bet per spin of 0.25. The greatest coin value is 400, on every token generated by a maximum bet of 100.00 per spin.
Two types of Coin Tokens are available, the Gold and the Silver Coins. The Gold Variety is the standard type, which players can amass via paid spins. The Silver tokens are acquired only when received as bonus reward. Still, every 10 Gold Coins saved in the Coin Bank converts a Silver Coin into a Gold Token; the latter being the only acceptable tender at the Wizard Shop.
Wizard Shop Online Slot: Wizard Wild Feature
A Wizard Wild is a full reel, full-body image of the featured Wizard. Distinguished by its Gold color-motif, the Wizard Wild emerges as a transformation of a full-reel, 6-tiered Purple Wizard icon. Once the upgrade from top-paying icon to Wild Wizard image transpires, all other Purple Wizards in view will be replaced by Gold Wild Wizards.
The Purple to Gold Wizard transformations are significant not only because of the multiple substitute symbols added to a spin outcome. The event also upgrades the Paytable Values awarded by Wizard images. A grouping of 2, 3, 4, or 5 Purple Wizard images pay a cash reward equivalent to 10x, 40x, 140x, or 400x the Line Bet, respectively. The Gold Wizard on the other hand, correspondingly awards 10x, 50x, 200x, or 750x the Line Bet, when two or more line up as winning combinations.
Wizard Shop Online Slot: Free Games with Purchasable Reel Enhancements
Pay attention to the Scroll Symbols that take up positions in Reels 1, 3, and/or 5. If all three (3) reels return after a spin with a Scroll Symbol, 10 Free-Spins activate. The game commences with the presentation of the following reel enhancements on sale at the Wizard Shop:
Wild Symbols sold in lots of 50s in exchange for Gold Coin values determined by the current Bet per spin. Up to as many as 5 lots are offered, equating to as many as 250 Wild enhancements added to the bonus reels.
Treasure Chest Scatter Pay Upgrades – Every Treasure Chest that lands as outcome of a bonus spin awards a Scatter Pay of 1x the Total Bet. Through the Wizard Shop, players can buy Scatter Pay upgrades that increase Treasure Chest Rewards up to 5x the Total Bet.
Wizard Wilds Multiplier – Bonus Game players can increase the Win-Multipliers of payline wins completed via Wizard Wild representations. Using their Gold Coins as trade off, they can purchase Wizard Wild Multipliers ranging from 2x to 5x.
All three (3) Bonus Reel enhancements at any level, are purchasable at the onset. All purchases will then be added as win-boosting elements, and displayed at the top right of the Wizard Shop slot screen.