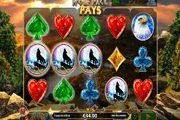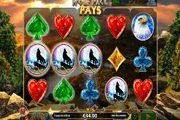 Wolfpack Pays Online Slot – "On a Roll Feature" Enhances Reels with a Pack of Wolf Wilds
Wolfpack Pays by NextGen Gaming is a 40-payline online slot that delivers a new kind of gaming experience. Every payline win triggers a free spin and adds Wild Symbol reel-enhancements to increase the odds of hitting another win-triggered bonus spin. If a series of payline wins reach a fourth free-spin, the game's Free-Spins Bonus Game will be activated.
Entering the free games will become even more exciting as the free-spins are played in Bonus Reels completely enriched with Wild Symbol enhancements.
[/CBC]
Wolfpack Online Slot Wild Symbol
The 3-tile high image of a White Wolf is the Wild Symbol of this game. Prior to the launch a win-triggered free-spin, a Wolf Wild icon will be added to a reel to potentially land as outcome. Since more White Wolf Wild Symbols could possibly appear as outcomes of consecutive free-spins, the icons could form winning 5-, 4-, or 3-of-a-kind matched-symbol combinations as well. If it does, coin rewards of 800, 25 or 10 multiplied by the payline bet, will be awarded as winnings.
The number of Wolf Wilds added as reel-enhancements depends on the current feature with which the reels are played.
Wolfpack Pays Online Slot : "On a Roll Feature"
Hitting payline wins bring additional thrills, as avid slot players engaged in this game reap not only monetary rewards, but a free-spin as well. Every win triggers a bet-free spin and players on a roll with a streak of wins have great chances of entering the free-spins round. To make such an occurrence possible, the White Wolf Wild reel-enhancement increases with every succeeding win-triggered bonus spin.
• The first free-spin adds a Wolf Wild in Reel 3, posing as potential outcome of that reel.
• A second win-triggered free-spin spawns two Wolf Wild reel enhancements, this time in Reels 2 and 4. Three (3) Wolf Wilds therefore may likely land as full-reel Wild Symbols in Reels 2, 3, and 4.
• If the second free-spin produces a third win-triggered turn, all five reels will be enhanced with Wolf Wild Symbols.
• If the third free-spin produces another payline win, the Wolfpack Free-Spins Game will be activated.
Wolfpack Pays Online Slot : Free-Spins Bonus Round
The free games may seem like a continuation of the "On a Roll" feature as all reels are already enhanced with Wolf Wild Symbols. However, the bonus reels no longer require payline wins to produce a series of bonus spins. The free-spin round continues regardless of the outcomes, albeit configured to end once three (3) non-winning bonus spins have occurred.
To keep track of the non-winning bonus spins, three Paw Tokens are on display at the top of the slot screen. A Paw Token disappears after every non-winning spin. Once all three disappears, the Wolfpack Pays free games end and all bonus wins garnered from the round will be awarded.
Wolfpack Pays Online Slot Betting Options
Every wager staked on each spin covers for all 40 paylines. The amount staked per spin varies, as it depends on the coin value selected as Bet Per Payline.
The coin values available as bet per payline selection range from 0.01 to 2.00.
The lowest possible bet per spin therefore is 0.40 ( 0.01 /payline x 40 paylines), while the maximum bet per spin is 80.00 (2.00/payline x 40 paylines).