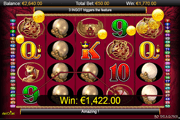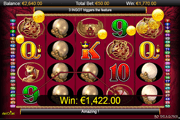 50 Dragons Online Slot – Chinese Good Luck Symbols Could Bring Amazing Big Wins!
50 Dragons the popular Aristocrat land-based slot gaming content has arrived at online casinos powered by NextGen Gaming. The game features 50 non-fixed paylines, playable with one or all, or with multiples of 5 paylines for each spin. Activating all win-patterns could prove to be advantageous, since a Wild Symbol occurring in Reels 2, 3, 4, and/or 5, makes completing payline matches an easy goal. More so, in the 50 Dragons Free-Spins Round because the bonus spins will run on reels enhanced with additional Wild Symbols.
The highest paying Gold Dragon Symbol for one could bring exceptional wins. Configured as Stacked Symbols in every reel, a single spin outcome may present multiple Gold Dragon Symbols. A pair of consecutively appearing Gold Dragon icons brings forth 10 coin credits; landing on three, four or five is even better. The symbol correspondingly awards as many as 40, 200, or up to 1000 coin credits on the highest combination of a Gold Dragon payline win!
[/CBC]

Get the reel-spinning actions work toward the activation of the 50 Dragons Free-Spins Round, by aiming to land on three Gold Ingots. The win possibilities are even greater as more Wild Symbols would come around to complete multiple and top paying combo-wins!
50 Dragons Wild Symbol
An unmarked White Pearl image symbolizes the Wild that could pose as alternative of any regular paying symbol. One-of-a-kind icons, appearing in an active payline with a Pearl Wild, may be completed or expanded as winning combinations. The Pearl Wild though, emerges only in Reels 2, 3, 4, and/or 5.
The Pearl Wild, however, cannot be used in combination with the Ingot, as the latter is a Bonus Game trigger symbol.
50 Dragons Bonus Game Symbol and Free-Spins Bonus Round
The image of a Chinese Gold Ingot makes random appearances in Reels 1, 2 and/or 3. If after a spin, all three reels hold a Gold Ingot image in any position, the 50 Dragons Free-Spins Bonus Round will be activated. In addition, Scatter Wins of 4x the Total Bet staked on the triggering spin, will be awarded.
Initially, players receive 10 free-spins as Bonus Prize. In the event that another trio of Chinese Gold Ingots appears as outcomes of Reels 1, 3 and 5, five additional free-spins will be added to the remaining round. The Bonus Game can only be re-activated once in every free-event.
The bonus round will be played on a set of reels enhanced with additional Pearl Wild Symbols. The enhancements will make it possible for Wild Symbols to appear more frequently and abundantly after each bonus spin.
50 Dragons Online Slot: Betting Options
In this game, coin values available as betting options range from 0.01 to 2.00. Any value selected represents the amount staked per payline.
The Bet per Spin depends on the number of paylines activated and coin value selected. The lowest bet that a player may wager on each spin is 0.01 (0.01 x 1 payline). On the other hand, up to a maximum bet of 100.00 (2.00 x 50.00) per spin may be wagered.