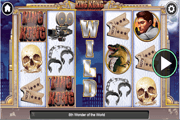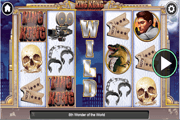 King Kong by NextGen – Win Bonus Spins via the King Kong Smash Feature
King Kong by NextGen Gaming is a 25-payline video slot that presents the fabled monstrous gorilla in animated raging slot actions. The legendary ape goes on a rampage in the "King Kong Goes Ape" Bonus Feature, and smashes airplanes in the "King Kong Smash" Bonus Game. The outcomes, however, could prove to be advantageous for online slot players, as the gorilla's actions trigger special Wild Features and Free-Spins Bonus Games.
[/CBC]
The icons are a mixed lot, as vintage images of Movie Tickets, Movie Camera, a pair of Shackles, a Ship, a Biplane, a Skull, a Tarantula, and interestingly, a T-Rex are on display across the reels. The highest paying icon is the image of the Female Character, as it awards as many as 7,500 coins for every five-of-a-kind matched-symbol groupings positioned in a payline.
Players of this online game King Kong by NextGen Gaming should anticipate the emergence of the game's Wild and Scatter Symbols. Those icons bring around win-boosting elements that make this online casino content worth a player's gaming while.
King Kong by NextGen Gaming Wild Symbols
The terrifying image of King Kong represents the Wild Symbol. It is usable as suitable replacement/s for regular-paying identical symbols, if to complete a grouping or groupings of winning payline combinations. The King Kong Wild though emerges only in Reels 2, 3, and/or 4, therefore not capable of forming Wild-constituted payline wins. Nonetheless, its appearance in Reel 3 sets off a special Wild Feature entitled "King Kong Goes Ape."
"King Kong Goes Ape" This feature is triggered whenever the King Kong Wild icon lands on any position in Reel 3. Once the feature is active, the entire column transforms into a full-blown animated King Kong image; but only for the outcome of the triggering spin. As a full-reel Wild Symbol, it is available to use as alternative icon in order to form payline wins out of consecutively appearing matched-symbols in all three (3) rows.
At the same time and for the same spin outcome, EXTRA WILDS may be added in Reels 2 and 4. The Wild additions therefore increase the likelihood of landing on multiple and high-paying winning payline combos. The King Kong Wild though cannot be used as alternative icon to complete a Bonus Game Symbol combination.
King Kong by NextGen Gaming Bonus Games
The King Kong Logo represents the Bonus Game Symbol. Three or more of the Logo icons initiate a mini- game. After the mini game has been played and the number of bonus-spin rewards determined, players have the option to unravel and receive a mystery cash prize instead of playing the free-spins bonus game.
The Plane Smash Bonus Game A new game panel shows a scene in which King Kong is being attacked by numerous biplanes, while the ape is perched atop the Empire State Building . Bonus Game players will help defend the humongous gorilla by smashing the aircrafts. A player is allowed to incur three (3) misses; after which, they will choose their Bonus Reward.
"Bonus Spin Rewards"
• 2 Smashed Planes = 25 Bonus Spins
• 3 Smashed Planes = 50 Bonus Spins
• 4 Smashed Planes = 75 Bonus Spins
• 5 Smashed Planes = 100 Bonus Spins
• 6 Smashed Planes = 150 Bonus Spins