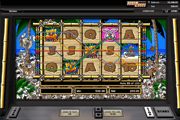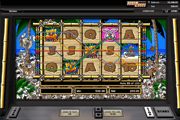 Loads A Bunny Online Slot – The Hot Cross Bunnies 5-Reel Sequel
Loads A Bunny online slot is Realistic Games' 5-reel, 20-payline sequel to the popular Hot Cross Bunnies 3-reel title. Delivered to online casinos by NextGen Gaming, the game still offers the Bunny Money feature; but this time, the jackpot is winnable even during base game play.
The Nudge, Auto Nudge and the Super Spin features of the original Hot Cross Bunnies slot are no longer available to bring guaranteed payline wins. Nonetheless, a Wild Symbol has been added to boost players' chances of landing on matched-symbol payline combos. Reel icons now include diverse Bunny images with different color motifs, awarding uniform pays of 20, 200, 1000 for every 3, 4, or 5 identical-symbol payline grouping.
[/CBC]

Loads A Bunny Hot Cross Bunnies – Jackpot Totem and Bonus Game Symbol
The Pink Bunny totem emerges across the base game reels to initiate the launch of the Bunny Money Bonus Game, or the release of the Jackpot. The number of Pink Bunny images determines the bonus reward awarded to Load a Bunny slot players.
• Three (3) Pink Bunny images will activate ten (10) free Bunny Money spins.
• Four (4) Pink Bunny images will activate twelve (12) free Bunny Money spins.
• Five (5) Pink Bunny images will award the 250x Total Bet Jackpot
Players who receive free spins as bonus reward still have a chance to win the Jackpot, as the 250x Total Bet is still offered as top prize of the Bunny Money Bonus Game.
Loads A Bunny Hot Cross Bunnies – Bunny Money Bonus Game
The Bunny Money Bonus Reels of this Hot Cross Bunnies sequel is almost identical to the bonus game reels of the original title. The difference though, is that it now includes a Bonus Game Win Line for five (5) Pink Bunny totems, as addition to the Bell, Watermelon, Orange, Grapes and Cherries Win Lines.
Following the same game mechanics, fruit icons light up in their respective Win Line every time their symbol appears as outcome of a free-spin. As each Line Win completes a 3-, 4-, or 5-lit-up symbol collection, the corresponding Win Line will be evaluated for bonus rewards.
If the bonus round is still ongoing, and a Fruit icon completes an identical-symbol collection, the Win Line of that Fruit icon resets. The fruit icon will then continue to light up, in order to complete another set of lit-up symbols in its Win Line.
There are two ways by which the 250x Total Bet Jackpot can be won in the Bunny Money Bonus Game. One is by lighting up all images in the Bell Win Line, and the other is by lighting up five Pink Bunny totems.
If the Bonus Game ends and only three (3) or four (4) Bell icons were lit up, bonus game players still stand to receive a corresponding payout. On the other hand, if only three (3) or four Pink Bunny totems were lit up at the end of the game, the corresponding ten (10) or twelve (12) bonus spins will be awarded.
Loads A Bunny Hot Cross Bunnies – Wild Symbol
To help players reap rewards from matched-symbol combinations in the base game, the Loads A Bunny Logo is available to use as Wild Symbol. Actually, the Loads a Bunny Logo is also the highest-paying reel icon. It awards as many as 5000 coin credits for every five (5) Logo Symbols lined up in a payline.