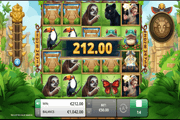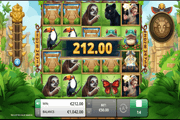 Lost Riches of Amazon Slot: Collect Wilds and Monkey Head Totems to Trigger Bonus Features
Lost Riches of Amazon is a 2048 ways-to-win online slot by Foxium/NextGen Gaming that pays both ways on matched groupings of consecutively positioned symbols. Cartoon graphics of a pair of Explorers, their Gadgets, an array of Amazon Wildlife and Ruins, earn coin rewards when three or more line up in adjacent reels starting from the leftmost or rightmost reel. Yet the significant elements to anticipate as outcomes in any game mode are the Mask Wild, the Golden Money Head Totem, and the Lucky Coin Symbols.
Every Mask Wild appearing as outcome is important even if no substitution action was performed. That is because collecting 12 Mask Wild-hits triggers a Wild Symbol Replacement feature. The same goes for the Golden Monkey Totem, also a Collectible Icon configured to activate four (4) types of Bonus Games. A single Lucky Coin Symbol on the other hand awards a Respin every time it emerges, whether or not the free-turn results to a win event.


Lost Riches of Amazon Online Slot: Wild Symbol
An Aztec Mask poses as Wild Symbol. When aligned with identical images, it can complete or expand winning arrangements of one-of-a-kind images. Still, even if a Mask Wild in view did not perform substitution actions, every emergence works toward the triggering of a win-boosting feature. A Mask Wild Meter positioned on the right side of the Lost Riches of Amazon screen, keeps track of the number of occurring Wilds. Hitting 12 Mask Wilds as spin outcomes will fill the meter and thereafter activate the special Wild Symbol Replacement Feature.
Wild Symbol Replacement Feature – Once this power-up feature is triggered, three (3) Mask Wild Symbols will be added to a random position in three (3) different reels. The middle reel is excluded from this feature.
Lost Riches of Amazon Online Slot: Lucky Coin Respin Feature
A Lucky Coin appearing in any spot across the Lost Riches of Amazon slot board automatically launches a bet-free spin. If another Lucky Coin icon emerges as outcome of a respin, the reels will respin anew even if no winning combination occurred.
Lost Riches of Amazon Online Slot: Bonus Game Features
The Golden Monkey Head is primarily a collectible icon. Collecting 10, 20, 30, and 40 Golden Monkey Head totems correspondingly triggers the following Bonus Games:
10 Golden Monkey Heads – activate the Match-Two Game. The Lost Riches of Amazon game board will be replaced with tiles; each of which has a mystery Amazon Treasure to reveal. Players click on each tile to reveal the hidden object, and any two that makes a match award the prize indicated. Lost Riches of Amazon players will then carry on to earn more rewards from matched objects. However, the game ends immediately if a pair of Skulls is revealed.
20 Golden Monkey Heads – set off the Wheel of Fortune Game that awards instant wins via a 2-level spin wheel. The first-level spin determines the coin-win value. The second-level spin awards a Multiplier Value that applies to the Coin Win.
30 Golden Monkey Heads – Lost Riches of Amazon players reaching this bonus feature receive eight (8) Free-Spins with Progressive Wild Feature. The Wild Symbol boosts heighten opportunities of hitting bonus wins, as well as of triggering the Wild Symbol Replacement Feature. During the round, every emerging Lucky Coin adds one (1) Extra Spin.
40 Golden Monkey Heads award Free-Spins with Tall Wilds Bonus Round. Here, five (5) free-spins run on reels in which Tall Wilds fill up either the leftmost or the rightmost reel. Both reel positions are significant, since they represent the starting points of a winning arrangement.