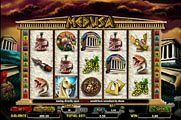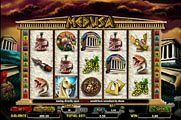 Medusa Slot Machine by Next Gen Gaming
Medusa is one of the Ancient Greek Titans who existed before the gods that we know such as Zeus and Aris. Medusa has snakes for hair but that was not her main source of power, no one dared to look at her straight in the eyes because according to the Greek Mythology, who ever looks her in the eyes will be turned into a statue of stone. You might think, why would I embark on such a dangerous gaming journey, the answer is simply, the great rewards. Pack your weapons and get ready to fight Medusa for a chance to earn great payouts and treasures through this 5-reeled, 25 lined slot gaming adventure that will take you into the world of Ancient Greece.
The Rewards of the Medusa Slot Machine
You can expect to get rewarded with great payouts through the winning lines that you can place bets on or through the wonderful features that medusa has to offer you. Of course, since the game is all about Medusa the titan, you can expect that one of the very high paying special symbols of the game to be none other than Medusa.
Medusa plays the role of the wild and the scatter symbol all together. This is because Medusa will use its Titan powers to fill in for other symbols and not only that, when it appears on the 2nd, 3rd or 4th reel, it can turn them wild through its Expanding wild ability. On top of that, three of Medusa symbols will trigger 3 re-spins for players where they can kick back, place no extra bets and watch the reels of the game and the Greek Mythology themed symbols spin for free as they rack up on great rewards.
The theme of the game is incorporated into the back ground as players will Greek temples and a soldier's helm in the back ground and on the reels. On the reels players will see Pegasus, the logo of the game, Medusa, a Greek Temple, a snake and other icons from the Greek culture.
[/CBC]

In the world of Greek mythology, Medusa is one of many horrible creatures. One look into her eyes and you turn to stone. In this free slots game, you will find yourself back in ancient Greece and you will have to go up against this horrifying monster just like the brave a powerful Perseus once did. This free slots game is jam packed with many great sound effects and music that will keep in a trance like state for hours on end.
Aside from Medusa, there are several symbols in this game such as Pegasus, Greek temples, snakes,winged boots, soldiers, daggers, and shields and grapes. You will be able to roll these symbols in a variety of combinations that will be sure to bring a smile to your face when you see all of the great prizes that this game has for you to win.
This game lets you place bets as low as a penny and goes up to fifty dollars, but you are also given the choice to play in different types of currency such as pounds and even euros.
One great feature of this game that players will definitely appreciate is the autoplay feature. Autoplay allows you to choose the number of rounds that you want play and you can even choose the amount of bet that you want to lay on the line.
The Medusa slot contains a bonus game called turned to stone and basically what you have to do is try to get three of the infamous jellyfish symbol that at first sight might look scary, but is really quite useful. Of course Medusa was also known for her frightening hairstyle which as you might know was made of poisonous snakes. The Medusa in this game, however, lead you to another bonus game called once bitten, but in order to get this round started you must first get three or more of the Medusa symbol in a row. In this bonus game you have a chance at several free spins and even be able to try and get the Zika, which is the number ten and also lets you have double wins.
The famous winged horse, Pegasus, symbol starts the last bonus game in which you will have to choose one of the three winged Pegasi in order to collect winnings in one of three random amounts that vary from large to small.
If you are a fan of Greek mythology and love to play the slots, then this game is one that you will most definitely want to give a shot. Become brave like Perseus and defeat the evil gorgon Medusa! Become filthy rich or break the bank! It is all up to you the player in this fun-filled slot machine game that is sure to keep you entertained for hours. Just don't look into the hate-filled eyes of Medusa or you will be doomed to spend eternity as a stone statue in her garden. Come play the Medusa slot machine game today!