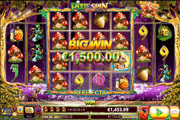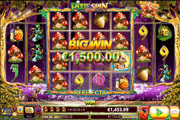 Pixie Gold Online Slot- Amazing Guaranteed Wins via Reelfecta Reels
Pixie Gold is a unique video slot created by Lightning Box, and brought to online casinos by NextGen Gaming via the NYX OGS platform. Slot players will place bets to land on one-of-a-kind combinations consecutively appearing on eight reels. Technically, there are five (5) reels; but the 4-column Reelfecta Reel creates eight (8) reels in all. This is because the Reelfecta Reel contains a set of 16 tiles set in four (4) rows and four (4) columns, all of which represents Reel 3 symbols.
[/CBC]

A symbol positioned in any of the four (4) columns of the Reelfecta Reel, qualifies as a third matching icon if it has corresponding matches in Reels 1 and 2. The number of matched-symbol groupings completed per row from Reel 1 through Reel 8 will be multiplied by the corresponding win-value payout for each winning symbol. Take note that each win will be evaluated only for the highest symbol-combination, in case more than 3-identical symbols comprise a grouping.
The Pixie Gold Wild Symbol
The image of a Pixie or Sprite is the Wild Symbol that helps complete like-symbol groupings. Provided, however, that the Pixie Wild is positioned next to identical symbols needing one or more to form identical-symbol grouping/s. It can be used as substitute for all regular icons except the Star King Symbol.
During ordinary spinning events, Pixie Wilds appear only in Reel 3, or the Reelfecta Reels. Regardless of the row or column in which the Pixie Wild appears in the Reelfecta Reels, the wild card can complete identical Reel 1 and Reel 2 symbols needing a third symbol to complete or extend a winning combination.
During a special Pixie Spin occurrence, a Pixie Wild may also appear in Reel 2.
Pixie Gold Online Slot – Pixie Spin Feature and King Star Trigger Icon
A Pixie Spin is an occurrence in which a regular symbol is guaranteed to land in multiples in the Reelfecta Reels. That way, Pixie Gold slot players have higher chances of landing on top-paying combinations after each Pixie Spin.
A King Star landing once after every spin and singly in each of the eight reels, may trigger the Pixie Spin. Still, it has to land in a column to which the moving Star Cart makes a stop.
The Star Cart is the tiny mouse-drawn carriage moving from end-to end below, and outside the slot screen. If the Star Cart and the Star King align in the same column, the Pixie Spin feature will launch. If this particular condition is not met, the Pixie Spin will not occur. Nonetheless, the Star King is still a special symbol as it can be used as stand-in icon for the Letter K.
Pixie Gold Online Slot Betting Options
Each spin plays for 1,296 ways-to-win that requires 50 coins to place as wager per spin. Players have to select a coin value, to which the choices start at 0.01 up to 2.00.
The coin value selected is the bet amount per pay way, while the coin value multiplied by 50 coins is the Total Bet per spin. A spin therefore can be activated by staking 0.50 (0.01 x 50 coins) at the least, or 100.00 (1.00 x 50 coins) at the most