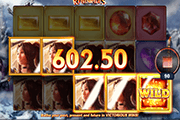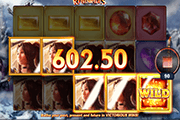 Renegades : 8 Free-Spins Dedicated to 1 Renegade Icon Appearing as Mega Symbols
Renegades is a 243 ways-to-win online slot by Nextgen Gaming in which images appear in various sizes, including 3 x 3 Mega Dimensions. Alike icons need only to appear in consecutive reels starting from the leftmost column. That way, identical images in varying sizes, landing in at least 3 adjoining reels starting from the leftmost border bring surefire multiple wins. In the free round, the bonus reels will produce only one type of Renegade character, in order to boost chances of reaping multiple bonus wins.
All reel elements including the low-win gemstones, the Wild, and the Bonus Symbols have varying configurations. Aside from the regular single-tile size, other dimensions include two to three-tile high icons in one reel, and 2 to 3 contiguous images in a single row. The most impressive is the Mega Symbol, which is a huge 3-row x 3-column block of image. If such image spans Reels 1, 2, and 3, the colossal symbol is already equivalent to multiple winning combinations.


Bonus Game players will get to meet one of five Renegades ladies up close in the free round. Although all five have top Paytable values, Freya, the be-horned Valkyrie of Valhalla ranks as highest paying icon. Three, four, or five Freya images in adjacent reels, award 5, 20, or 200 credits. Still, greater rewards are in store, in an event in which the Wild or Scatter Symbols form winning arrangements.
Renegades Online Slot: Wild Symbol
The Wild Symbol awards 10, 25, or 250 coins when 3, 4, or 5 align consecutively in adjoining reels. The great news is that even the Wild Symbol may land across reels in varying sizes. This denotes that if Reels 1, 2, and 3 return after a spin with a Mega Symbol Wild, a mega win-event is sure to come.
Renegades Online Slot: Bonus Symbol
The Bonus Symbol is another element to anticipate. Three, four, or five Bonus Symbols even if positioned in non-adjacent reels, award 80, 200, or 400 credits as Scatter Reward. Moreover, at least three Bonus Symbols anywhere across the Renegades game board, activate the Free-Spins Bonus Round.
The Bonus Symbol may also occur in larger sizes. The multi-size attribute therefore increases the possibility of reaping Scatter Rewards and/or of triggering the Bonus Round. However, if both Wild and Scatter combinations occur as winning outcomes of a single spin, only the Wild combination/s will garner equivalent payouts.
Renegades Online Slot: Free Games
A round of free games consists eight (8 )free-spins. The session commences with the random selection of one of five Renegades ladies as featured Bonus Symbol. Thereafter, various sizes of the randomly picked Renegades image will flood the bonus reels, replacing all icons of the four other Renegades characters.
The Bonus Symbol may still appear as potential multi-sized elements. That being the case, chances of retriggering another Renegades Free-Spins Round, are high.