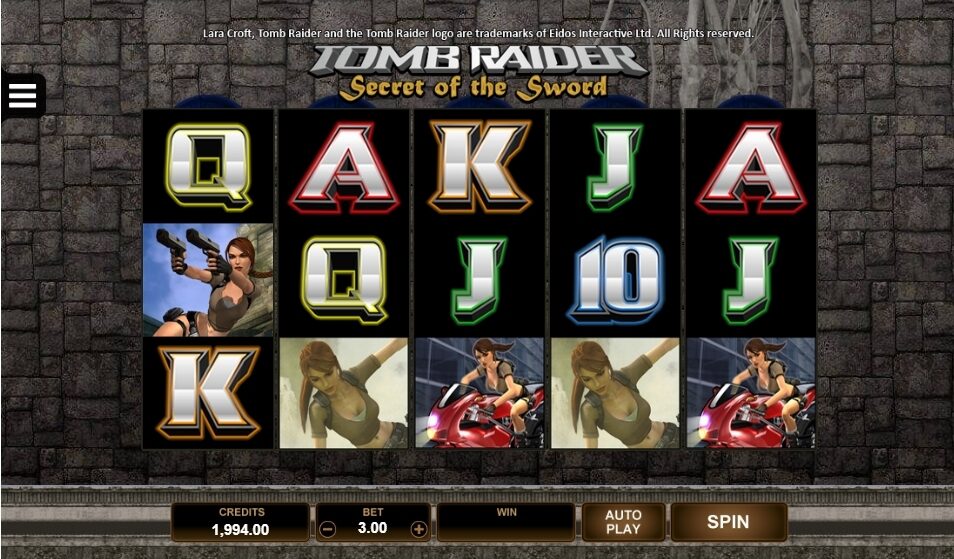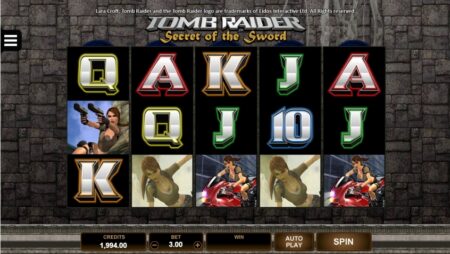 Pros
Nostalgia Gaming Fast, Frequent Bonuses
Tomb Raider Slots
Microgaming has taken a somewhat generic slots interface and spiced it up with some great imagery from the popular Tomb Raider slots series.  What originally started as a video game franchise later became a popular movie franchise when Angelina Jolie took on the role of Lara Croft.
The Tomb Raider slot game brings the franchise full circle and back into the realm of gaming with this terrific showing from Microgaming software.  Try Tomb Raider Slots for free and decide what you think.  We give this one 5 out of 5 stars!
The game invites players to tag along with Lara Croft in her travels across the map as she tries to locate and salvage ancient relics and long-lost hidden treasures. Players will not only join the tomb raider in her adventures for a fun and action-packed ride, as the slot also gives players the chance to earn plenty of rewards, whether through the line payouts of the game, as they form winning combos of matching symbol, or through the special wilds and scatter icons that have a lot to offer to lucky players.
Tomb Raider Slots is a New Classic
This online slots game has become a classic favorite at Microgaming online casinos. It's a good game to go to for some loose wins as it has a fairly high payout percentage and has a high volatility rate. The bonus rounds are also fairly loose and you'll hit a bonus at least twice a session unless the game has paid out a lot in the day. Even without the Tomb Raider branding, this would still be a popular slot machine game with most players because of the quality of gameplay and artistry.

The nice thing about a popular slot like this is that you can find it headlining at several casinos. So if you are someone that carries accounts at several online casinos, then this is a definite go-to game to get the bankroll warmed up. Try it out for yourself with the free spins version of the game on this page. You'll soon see that it's a very well-made slot with downs that are not too low and ups that are just right. Spin win streaks can go for as long as 20 spins from what we have seen and spin loss streaks at the most seem to be around five at the most, but mostly around three.