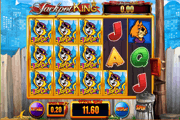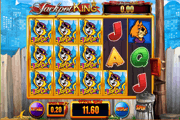 Top Cat – Blueprint's Online Slot Adaptation of a Circa 60's Hannah Barbera Cartoon
Top Cat is a 5-reel, 20-paylines online slot created by Blueprint Gaming, and deployed to online casinos by NextGen Gaming. Themed after a circa 60s Hannah Barbera cartoon series, this online casino offering is a trip down memory lane for baby boomer slot players, as the special win-boosting and bonus features take inspiration from the get-rich quick ruses of T.C. and his gang of Hoagy's Alley cats.
Win-boosters to look forward to include the Call or Nothing Feature, the Fancy Fancy's Hot Dog Features and the Master Plan Bonus Feature with five (5) bonus game options.
[/CBC]

This Blueprint online slot also gives players a chance to vie for the developer's Jackpot King Progressive Prize. If five Jackpot King logos appear after a spin, Top Cat players can either collect mystery bonus prizes and/or trigger the Wheel King game that offers greater rewards including the progressive Jackpot King.
Top Cat Regular and Extra Wild Symbols
A Fishbone image represents the regular Wild icon that can complete payline wins if it appears in a payline with identical symbols. The Fishbone Wild can also form its own winning combo, awarding as many as 500 coins for the highest one-of-a-kind Wild Symbol combination.
During the Call or Nothing feature, Extra Wilds may appear if T.C. gets to speak with a gang member. The Call or Nothing Extra Wild Symbols will occur as Choo's Piano Wilds and Brain's Water Wilds.
Top Cat Call or Nothing Reel-Enhancing Features
Top Cat's random emergence from out of the off-screen trashcan, activates the Call or Nothing feature. If T.C. succeeds in speaking to Choo, Brain, Spook or Benny over the phone, a special win-boosting element will be activated to enhance the outcomes of the next spin. Nothing happens if Beat Cop Dibble orders Top Cat to get off the phone.
Aside from the Extra Wilds created by Choo or Brain, the outcomes of a spin will have a second run via the "Spook's Mice as Nice feature." Mice will appear to jumble reel icons in order to create new combinations.
If Benny receives T.C.'s Call, random reel positions will be replaced with overlays of Colossal TV images. Each image holds a mystery prize that players stand to receive as guaranteed wins once the reels come to a stop.
Top Cat Online Slot: Fancy Fancy's Hot Dog
This segment is a mini- interactive game activated by the emergence of a large, full-reel image of a Hotdog Sandwich in Reel 5. Fancy Fancy and his gang will try to steal the Hotdog Wild by respinning the reels until the hotdog cart appears in Reel 1 as a Full-Reel Wild Symbol.
Top Cat Online Slot: Master Plan Bonus Games
A trio of the Gang's Group Picture appearing simultaneously in Reels 1, 3, and 5, initiates the activation of five different bonus games. Players select a Master Plan as a way of choosing one of the following game options:
Cash Picker Bonus Game is a Pick and Click play that awards instant wins with a chance to increase the total winnings by unraveling a Win-Multiplier.
Maharaja Heist Bonus Game also brings around instant wins and multipliers but of the progressing kind, as this pick-a-bonus game is carried out in two (2) stages.
Construction Site Free Spins Round – is a round of bet-free spins but with a twist, as the spins will be played via five varying reels for different game levels. As players advance in their bonus play, the high-level reels will have more Wild Symbols to reveal as spin outcomes.
Diner Free Spins awards unlimited free-spins with progressing multipliers furnished via Special Diner Ticket Scatter Symbols.
Dibble Free Spins features a special Wild Symbol that roams around and stops in different reel positions, to increase the odds of landing on the most rewarding spin outcomes.