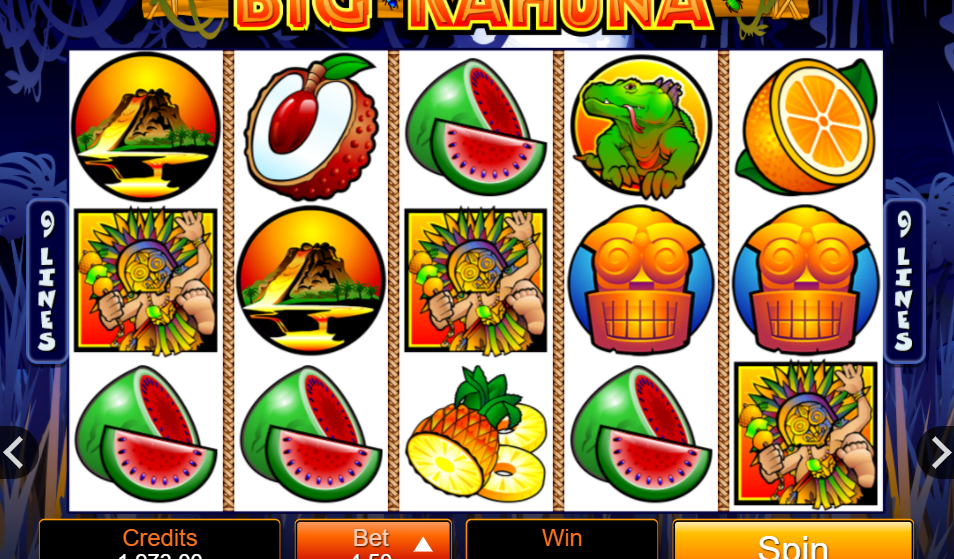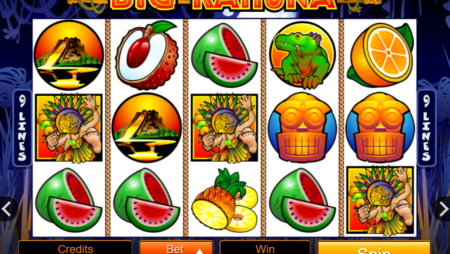 Big Kahuna A Hawaiian Culture-Themed Video Slot from Microgaming
Big Kahuna is a fun and colorful 5-reel collection of icons showcasing Hawaiian fruits and other cultural elements associated with the Hawaiian Islands. Kahuna in Hawaii could be a priest or a shaman. Yet latter day Hawaiian cultural practitioners use the Kahuna term when referring to a person of special expertise.
Using elements that suggest Big Kahuna here refers to rituals, this Microgaming online video slot brings a rewarding slot gaming experience by way of several win-boosting features.
The Big Kahuna "Pick a Mask" Instant-Win Bonus Game
The "Pick a Mask" Bonus Game, presents ten (10) Tiki Masks that have hidden prizes. Clicking on a mask reveals a mystery bonus prize. The game continues if a chosen mask reveals a prize. Clicking on a mask that reveals the word Collect instead of a bonus prize, will end the game.

The Payout Table indicates that as many as 4,375 coins are available as instant win prizes. The actual prize though depends on the number of Tiki Masks symbols that activated this Big Kahuna bonus game. The prize payout structure ranges from 14 to 1,650; 14 to 2,900 and 14 to 4,375 coins for every three (3), four (4) or five (5) Tiki Masks that activate the "Pick a Mask" bonus round. The set of Tike Masks symbols must appear in an active payline in order to take effect as bonus game trigger.
The Big Kahuna "Volcano Bonus Game"
Hawaii's Polynesian natives, regard volcanoes as places of power. In Hawaiian mythology, "Pele, the Fire Goddess," created the Hawaiian Islands through a series of volcanic eruptions.
A Big Kahuna spin that returns with three (3) up to five (5) Volcano images, activates the Volcano Instant-Win Bonus Game. A set of five (5) different happy-faced fruit symbols is in play as Pick Me choices. In this game, however, a bonus player gets to select only one (1) fruit.
Like the "Pick a Mask" bonus game, the range of coin prizes awarded depends on the number of symbols that triggered the "Volcano Bonus" round.
The Big Kahuna Monkey Scatter Symbol
Another element that brings extra payouts is the Monkey icon. As the game's Scatter Symbol, its only purpose is to bring Scatter Rewards for every single Monkey icon that emerges after a spin. The coin rewards range from three (3) up to two hundred (200) coins, for every one (1) and up to five (5) Monkey images appearing anywhere across the screen.
The Big Kahuna Logo Wild Symbol
As a staple slot game enhancement, the Big Kahuna Logo is the game's Wild Symbol. Aside from being the icon that can be used for substitution purposes in order to create a payline win, The Big Kahuna Logo can form its own combination. Landing on a set of five (5) that completes a payline pattern, awards a top prize of 8,000 coins.